SABIC
Launch of PEI film for high temperature capacitors / Elimination of active cooling step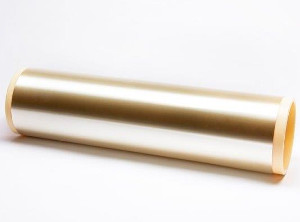 Sabic's new "Ultem" PEI film (Photo: Sabic)
Sabic
(Riyadh / Saudi Arabia;
www.sabic.com
) has launched a new polyetherimide (PEI) film that enables the company to enter the high-temperature film capacitor market in the electrical/electronics industry. The Saudi giant said it developed the film to address the growing need for lightweight, compact, high energy density capacitors that can store large amounts of electrical energy for long periods without significant leakage of current and loss of charge, even at high temperatures.
"Ultem" UTF120 is a high heat and high energy density dielectric film that is stable through a wide range of temperatures (-40 °C to 150 °C), which the company said increases reliability and reduces, or even eliminates, the need for active cooling for converter applications.
"Eliminating the need for active cooling will enable our customers to have a simpler and more flexible system design in electric vehicle application. This is also a stepping stone towards next-generation dielectric film products and provides translation opportunities for ultra-thin film to other application areas," said
Alan Tsai
, Sabic's director, High Performance Forms, Specialties.
Capacitors using Ultem UTF120 are capable of passing industry standard 260 °C reflow soldering processes. The film can be processed on existing equipment and has been validated with both film-foil and metalised electrodes, including flat and tapered designs as well as patterned electrodes.
The film has potential applications in automotive components such as DC-DC converters, electrical compressors and high-intensity discharge (HID) lighting, LED lighting, LCD backlights and film capacitors for mass transportation and renewable energy.
18.07.2017 Plasteurope.com [237382-0]
Published on 18.07.2017