RESEARCH
Embeddable, separable material for plastic-metal devices / EU-funded project aims at easier electronics recycling
The
Leibniz Institute for New Materials
(INM, Saarbrücken, Germany;
www.leibniz-inm.de
) is researching and developing materials to make electronics embedded in plastics recyclable. In particular, the institute is finding solutions to develop a layer that is applied between a plastic material and a metal component to ensure that the two components stick together. The development of such a layer proves to be challenging because at the end of a device's life cycle, this layer must enable the plastic and metal to separate from each other, thus making it possible for both components to be recycled.
Research team leader professor
Tobias Kraus
said in their solution a mixture of water and polyvinyl alcohol (PVA) is applied to the surface of the polymer substrate in which electro-conductive materials are to be integrated. PVA is a water-soluble polymer and, like table salt, dissolves in the liquid. It can be returned to its original solid state by heating and evaporating the water. This way, the different materials of in-mould and printed electronic materials can first be connected via the PVA layer and later, if necessary, can be separated from each other again.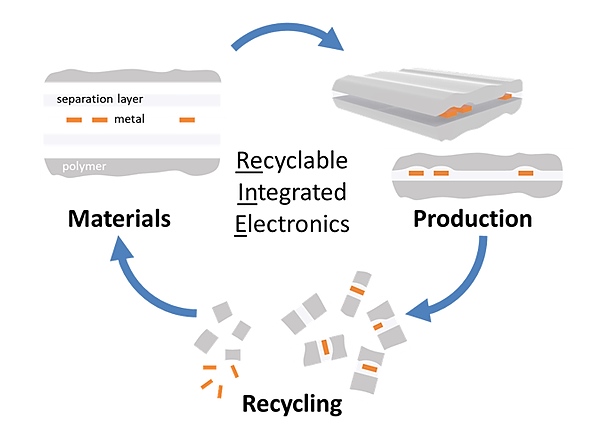 (Image: Leibniz Institut)
The research is part of an EU-funded project called Recyclable Integrated Electronics (ReIn-E), which is developing recycling‐compatible designs based on new materials. Project partners include
Hahn-Schickard
(Villingen-Schwenningen, Germany;
www.hahn-schickard.de
),
Sirris Technology Research Centre
(Brussels, Belgium;
www.sirris.be
), and
Centre Pierre et Terre
(Tournai, Belgium;
www.ctp.be
).
19.01.2022 Plasteurope.com [249370-0]
Published on 19.01.2022