RESEARCH
Fluorescent markers: Demon project for improved plastics recycling completed / Higher prices for better qualities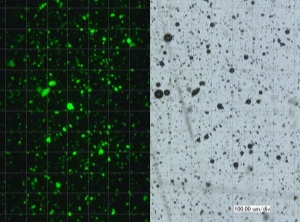 Only in a technical environment can the fluorescent markers be stimulated to glow (Photo: Polysecure)
Researchers at Germany's
Pforzheim University
(
www.hs-pforzheim.de
) have completed the research project of German Federal Ministry of Education and Research (BMBF) "MaReK – Marker-based sorting and recycling system for plastic packaging". "With the patented technology for tracer-based sorting (TBS) we have been able to show that plastics can be reliably sorted even under waste-management conditions by marking them with fluorescent tracers to permit their rapid identification. They can then undergo the high-quality material recycling that is required for a circular economy," say project managers
Claus Lang-Koetz
, professor of Sustainable Technology and Innovation Management, and
Jörg Woidasky
, professor of Sustainable Product Development, at the
Institute of Industrial Ecology
(INEC) at Pforzheim University.
TBS is a technology developed by project partner
Polysecure
(Freiburg / Germany;
www.polysecure.eu
). Very small quantity of fluorescent marker is applied to packaging or labels, which, contrary to existing sorting techniques, provides a separation feature that is independent of the packaging material. Fluorescent markers can be applied in the form of powdered material like other pigments or additives, without any change to the packaging or label's production process. They are then only made to glow in technical environments. The marking will function regardless of the shape, illustration and flexibility of the material – and largely independently of the degree of contamination.
"The tracer particles are sufficiently stable in thermal, chemical and mechanical terms for their fluorescence not to be impaired when they themselves are recycled," explained
Jochen Moesslein
, managing partner of Polysecure, when contacted by
Plasteurope.com
. If recyclate containing tracer particles is mixed with virgin material, the appropriate quantity of new tracer can simply be added to give the correct ratio again.
To allow this system to be used in the real circular economy, Moesslein recommends coordinating a number of technology steps. "A tracer with an agreed emission characteristic should be associated with a particular plastic specification class." TBS would permit the input goods to be pre-sorted by type, such as transparent PP homopolymer from food packaging. Fractions of this kind would be considerably more specific than is customary today and could be extruded by recyclers as batches of a pre-sorted quality, commanding good prices. "A technical solution now exists that will allow the minimum recyclate quotas specified in the draft of the new packaging law (see Plasteurope.com of
26.01.2021
) to be readily met," the project team is convinced.
The results of the overall project include a pilot plant for sorting the packaging, and proven printing processes for marking the plastics packaging. A number of optimised marker substances were also made available. A photo database was built up in the course of the project with more than 25,000 individual used packaging items. This will permit extensive scientific follow-up work and is to be used in at least one doctoral thesis. A grant application was submitted to the
Federal Ministry of Education and Research
at the end of 2020 already for a follow-up project aimed at developing an industrial TBS pilot sorting system suitable for conducting industrial sorting tests.
MaRek is one of 20 funded research projects for which the Federal Ministry of Education and Research has provided a total of EUR 37m for studies on "Plastics in the Environment". Other partners cooperating in the research were:
Werner & Mertz, Duales System Deutschland
(DSD) and the
Institute of Microstructure Technology
at
Karlsruhe Institute of Technology
(KIT).
19.02.2021 Plasteurope.com [246912-0]
Published on 19.02.2021
German version of this article...