REIFENHÄUSER
Cost savings achieved in blown film production / Simple measures can lead to significant efficiency improvements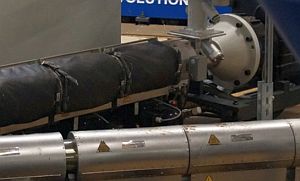 Insulating offers cost savings (Photo: Reifenhäuser)
Considerable energy cost savings in the operation of blown film lines can be achieved through the application of simple processes according to
Reifenhäuser Kiefel Extrusion
(Troisdorf / Germany;
www.reifenhauser-kiefel.com
), following research carried out at its technology centre. Savings can result from a range of measures such as the enclosure of line components – the enclosure of barrels and heater barrels has proved to be the most efficient measure, the company said.
Engineers were able to save between 20% and 50% of extruder heat energy by providing the barrels and heater-bands with insulating sleeves. This means that annual energy savings of up to 100,000 kWh can be achieved when barrels are encased on a five-layer blown film line processing 500 kg/h of resin. Reifenhäuser said that these savings equate to around EUR 12,000 annually, depending on energy costs.
The company's recommendations include the use of high-performance motors and drives in addition to insulation and customised design of complete lines. Many of the measures can be retrofitted without appreciable additional time and cost.
Reifenhäuser Group energy savings specialist,
Ralf Pampus
, said: "Energy costs are no longer a negligible factor in the production of extruded plastic products. Within the framework of our "Blue Extrusion" [environmental sustainability] initiative we are developing concrete measures that can easily be put into practice to provide significant savings for our customers. Thanks to the tests we conducted in our technology centre we know exactly which measures will bring the desired effects and which measures will only lead to negligible results."
25.09.2014 Plasteurope.com [229334-0]
Published on 25.09.2014
German version of this article...