RECYCLING
RecyClass' recyclability guidelines for EPS packaging / Update for coloured HDPE and rigid PP on certain adhesive technologies / Gualapack PP pouch passes recovery assessment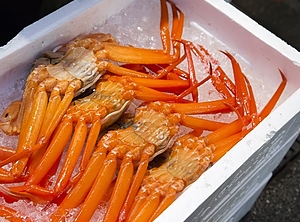 The new RecyClass guidelines address design for recycling in EPS packaging, such as fish boxes (Photo: Adobe Stock/naoko)
Recycling initiative RecyClass (
www.recyclass.eu
) has added a new online tool for assessing the recoverability of EPS packaging. The Design for Recycling Guidelines provide insights on how different components of EPS fish boxes and white goods packaging should be manufactured to enable their recyclability. The tool uses a class system that ranges from A to F to assess compatibility with recycling – from full to none.
"With these new design recycling guidelines which are based on scientifically backed up findings and developed by actors from across the value chain, the industry shows its commitment to make all plastics recyclable with a long-term objective in mind," said RecyClass chairman
Paolo Glerean
.
In separate news, RecyClass tests have shown that non-removable labels using acrylic-based adhesives from
Avery Dennison
(Glendale, California / USA;
www.averydennison.com
) and
UPM Raflatac
(Helsinki / Finland;
www.upmraflatac.com
) do not hinder the recycling of the coloured HDPE stream. The tests were carried out on Avery Dennison's Global MDO film labels with adhesives S7000 and S692N, and UPM Raflatac's Smartcircle polyethylene labels with acrylic and hotmelt technologies.
Consequently, RecyClass has updated its Design for Recycling Guidelines for both coloured HDPE and rigid polypropylene, downgrading the technologies for packaging recyclability by just one class as opposed to three classes for other non-removal labels.
RecyClass added that its Decoration Taskforce is planning additional testing campaigns on labels and adhesives to increase the industry's knowhow and provide further guidance.
Gualapack pouch approved
A PP-based pouch called "Pouch5" developed and manufactured by
Gualapack
(Castellazzo Bormida / Italy;
www.gualapackgroup.com
) has been validated as compatible with the rigid PP recycling stream by RecyClass and the
Institut für Kunststofftechnologie und -recycling
(IKTR, Weissandt-Gölzau / Germany;
www.iktr-online.de
). The white-coloured pouch has a rigid PP spout and PP cap, which represent more than half of the packaging by weight, with the final packaging comprising more than 95% PP.
RecyClass was created by
Plastics Recyclers Europe
(PRE, Brussels / Belgium;
www.plasticsrecyclers.eu
) and launched in 2014 to assess the sustainability of plastics packaging (see Plasteurope.com of
15.05.2014
).
06.01.2022 Plasteurope.com [249253-0]
Published on 06.01.2022