RECYCLED ISLAND
The Venice of the future: Dutch architects envision floating island made of recycled plastics waste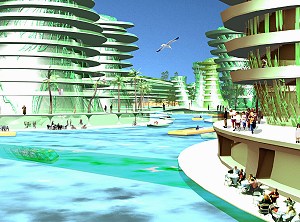 The project organisers envision an urban setting and self-sufficiency (Illustration: WHIM)
If Dubai's Palm Islands did not strike your fancy maybe in future you and your family will find fulfilment on "Recycled Island" (
www.recycledisland.com
) as one of the estimated 500,000 residents that could well some day call this 10,000 km
2
floating island their home.
The brainchild of
WHIM architecture
(Rotterdam / The Netherlands;
www.whim.nl
), "Recycled Island" takes postmodernism to new heights. The project, which is still at a conceptual stage but already has attracted the attention of media the world over, envisions the creation of a man-made island, made completely of recycled plastics waste collected from the world's oceans, including the huge amounts of waste circling in the North Pacific Gyre – see Plasteurope.com of
25.08.2009
.
Following in the footsteps of such projects as "Spiral Island" (
www.spiralislanders.com
) and the "Plastiki" (
www.theplastiki.com
), this latest initiative foresees an on-the-spot collection of plastics waste circling in the Pacific vortex. In so doing, the architects behind the project say they are not only emptying the world's oceans of the masses of waste, but doing so without having to transport the waste on land to undergo recycling there. However, with the project still at a conceptual stage, it remains unclear how exactly the floating waste will be recycled into hollow blocs that will become the main construction elements for the island.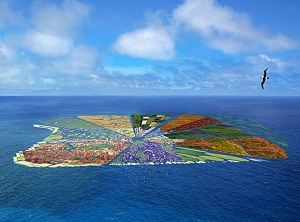 Depending on where the island will be floating, it will be able to harness solar, wave and wind energy (Illustration: WHIM)
The project organisers are also unsure about the final costs and are still on the lookout for investors in what they envision will be "a modern and green version of Venice". True, some might call it a pipe dream. But why would a floating recycled island built on the principles of self-sufficiency and green living not be the next step in a world where manned solar flights can take off at night (see Plasteurope.com of
09.07.2010
) and laser robots are capable of sorting recycled plastics (see Plasteurope.com of
17.03.2010
)? After all – plastics make it possible!
16.07.2010 Plasteurope.com [216791-0]
Published on 16.07.2010