PVC
China initiates anti-dumping investigation into US-made PVC / US, Taiwan, Japan main import sources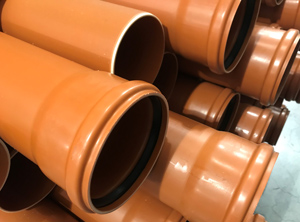 Pipes are one of the main application areas for PVC (Photo: PIE)
China's
Ministry of Commerce
has started an anti-dumping investigation into imports of PVC originating in the US, an inquiry that should normally end by 25 September 2021 but can be extended for an additional year under special circumstances.
A request for the investigation was submitted in August by five leading Chinese PVC manufacturers:
Xinjiang Zhongtai Chemical
(Urumqi;
www.zthx.com
),
Xinjiang Tianye
(Urumqi;
www.xj-tianye.com
),
Shaanxi BeiYuan Group
(Yulin;
www.sxbychem.com
),
Tianjin Dagu
(Tianjin;
www.daguchem.com
) and
Yibin Tianyuan Group
.
The product under investigation is pure PVC powder, and includes general-purpose PVC resin, PVC resin with high polymerisation degree, and cross-linked PVC resin under the HS code 39041090 of the World Customs Organization.
China's anti-dumping history with PVC
In 2003, China started to impose anti-dumping duties on five major PVC import sources, namely the US, South Korea, Japan, Russia, and Taiwan. The range of the levies imposed on different companies was quite wide, spanning from 6% to 84%.
China exempted Russian PVC deliveries from such duties in September 2015. Four years later in September 2019, Beijing announced the end of the levies for the remaining four import sources, which cleared all PVC imports over the past year.
China's PVC industry has experienced wide-ranging changes since the duties were first enacted, from heavy reliance on imports to self-sufficiency, and then severe overcapacity, followed by the current supply and demand balance after industry adjustments.
The world's largest PVC manufacturer and consumer, China is home to around 25m t/y of capacity, accounting for around 45% of available global PVC production, with more is coming on stream (see Plasteurope.com of
02.09.2020
). Nevertheless, it imported more than 850,000 t of PVC in 2019.
China's major PVC importers
Over the past five years, the US has been the largest international PVC source for China, followed by Taiwan and Japan. America delivered over 300,000 t/y of PVC to China in 2018-2019, accounting for 36% of total imports. The US, Taiwan, and Japan combined for around 80% of PVC imports despite a series of anti-dumping measures, indicating the importance of China as a major target market.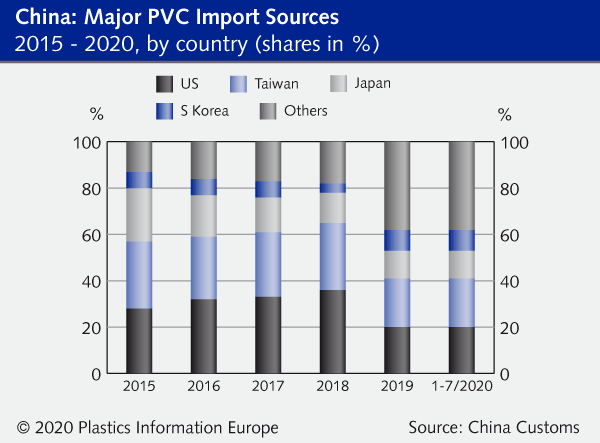 Among all imports, US cargo has a more competitive cost advantage. With low domestic demand, more than 40% of domestic US PVC production goes to the export market, and some 10% is shipped to China.

To avoid high anti-dumping duties, nearly all imported PVC entered the Chinese market via processing trade instead of normal trade routes, which caused a lesser impact on China's PVC industry. However, the normal trade volume of imports from the US reached 24,000 t in the first seven months of 2020, accounting for 16% of total imports from the US.

US PVC is seen by some as a threat to the balance of the domestic Chinese market, and local producers are said to struggle with low-cost US supplies, likely the main driver behind this investigation. However, the share of US shipments as a part of total imports has been falling significantly, making it hard to predict the final result of this investigation
02.10.2020 Plasteurope.com [246007-0]
Published on 02.10.2020
German version of this article...