PURECYCLE
PP chemical recycling projects underway on three continents / Formerra to sell company's rPP in North America / Firm secures added financing
US recycling specialist
PureCycle Technologies
(Orlando, Florida;
www.purecycletech.com
) has announced several developments relating to commercial production facilities for its patented, solvent-driven technology that recycles polypropylene waste into ultra-pure recycled (UPR) food-grade resin.
The company said its flagship 50,000 t/y US PP recycling purification facility in Ironton, Ohio, is mechanically complete, with commercial production on track for ramp-up at the end of April.
The company was unable to complete all construction activities at the site by 1 December 2022, but agreed with investors to a limited waiver for the original indenture agreement that principally adjusts operational milestones and transfer of funds for specified purposes.
PureCycle also said it continues to make progress after breaking ground in the US in 2021 on a
second multi-line purification facility in Augusta, Georgia
. The company noted that it expects the two purification lines there to be completed in Q4 2023 with a capacity of nearly 118,000 t/y.
The facility is to be designed to support up to eight purification lines to produce more than 450,000 t/y of UPR resin. The financing deadline for an initial line of credit has been extended, the company said, noting that it has negotiated with bondholders and secured a USD 150 mn (EUR 139 mn) line of credit.
Company moves into Asia, Europe
In October 2022, the company formed a 50/50 joint venture with South Korean PP producer
SK geo centric
(Seoul;
www.skgeocentric.com
) to construct and operate a 60,000 t/y PP purification plant in Ulsan, South Korea. The two sides reportedly continue to make progress in finalising the feedstock engineering, project budget, and financing and expect to complete the facility by Q2 2025.
On 17 March 2023, PureCycle signed a heads of agreement with global trading and investment company
Mitsui
(Tokyo;
www.mitsui.com
) to develop and operate a PP recycling plant that will produce 59,000 t/y, a move that followed a memorandum of understanding in September 2021. The partners are said to be finalising the site location for the facility, with completion targeted for 2026.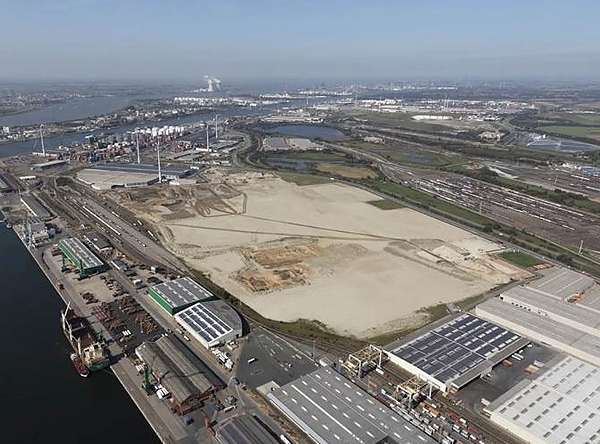 NextGen district at the Port of Antwerp, where the company plans to start construction of an rPP plant in H1 2024 (Photo: Port of Antwerp)
PureCycle last year selected the Port of Antwerp-Bruges in Belgium as the site for a
240,000 t/y rPP resin plant
. Construction activity is expected to commence in H1 2024, with ramp-up scheduled for H1 2026 and initial output with one production line set at 59,000 t/y. Nameplate capacity targets 235,868 t/y with four purification lines installed.
The company also announced a strategic distribution partnership with US engineering materials distributor
Formerra
(Romeoville, Illinois;
www.formerra.com
),
formerly part of Avient
. Formerra will serve as the primary authorised North American distributor of PureCycle's PureFive ultra-pure recycled polypropylene resin.
As of 31 December 2022, PureCycle reported total liquidity of USD 326.1 mn, including USD 162.5 mn in cash, cash equivalents, and debt securities available for sale, and USD 163.6 mn in restricted cash. It said it has USD 249.6 mn in debt and accrued interest, less USD 16.1 mn of discount and issuance costs.
23.03.2023 Plasteurope.com [252452-0]
Published on 23.03.2023