PROMIX SOLUTIONS
PET trays 30% lighter / Gases added in film extrusion / Use of rPET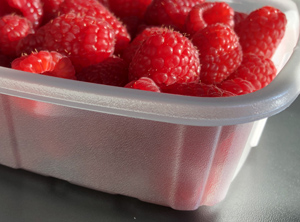 The Promix "Eco-PET" packaging is up to 30% lighter than conventional PET trays (Photo: Promix Solutions)
With its "Eco-PET" process, Swiss company
Promix Solutions
(Winterthur;
www.promix-solutions.com
) can produce thermoformed PET trays and cups that are up to 30% lighter than conventional PET packaging. The addition of small quantities of gases in the extrusion line, such as CO
2
or nitrogen, creates microcells in the film web that saves packaging material. "The driving fluid is dissolved in the melted mass by mixing and cool mixing modules, and the melted mass is then brought to the ideal process temperature for cell formation," CEO
Rolf Heusser
told
Plasteurope.com
, emphasising that existing extrusion lines can be retrofitted with the technology.
The Swiss supplier of solutions for mixing, foaming and cooling in plastics processing and polymer production introduced its Eco-PET process around four years ago. Promix Solutions said, however, it was only in the last 12 months that "considerable progress" had been made in the cell structure.
The trays and cups produced have a pearlescent, translucent appearance but can be coloured depending on the application. Heusser added that the products have a high rigidity and are resistant to scratches due to the cell structure.
Eco-PET packaging can also be produced from recycled bottles and is itself recyclable through conventional processes. "Other light foamed PET trays are also available on the market, with densities ranging from 200-300 kg/m³, that are produced on tubular dies for specific applications such as in-flight meals. The downside: This requires a specific extrusion technology and the products are not recyclable through flotation," said Heusser. "The majority of other PET packaging is only foamed in individual cases, since under normal circumstances PET loses its transparency in the foaming process. And this is where we come in."
With a 30% reduction of polymers, the density of PET (1,000 kg/m³) approaches that of polypropylene (900 kg/m³). Mistaking one of these thermoplastic materials for the other can cause difficulties in the recycling process. According to Promix, the density can be increased while still reducing the plastics content by adding a low quantity of talc, which is also useful as a nucleating agent. This would enable a reliable separation.
The Promix portfolio includes mixing nozzles, melt blenders, foam extrusion systems, CO
2
/N
2
gas dosing stations, melt coolers and inline viscosity measuring devices. The company, by its own account "leading" in its sector, declined to give current sales figures.
26.05.2020 Plasteurope.com [245026-0]
Published on 26.05.2020
German version of this article...