PRINTING INKS
Thinking outside the box: manufacturers are under pressure / Prices for titanium dioxide explode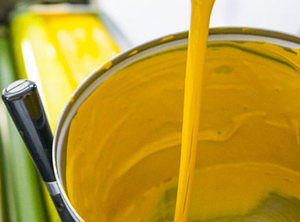 Hikes for colour pigments are being driven by increased raw materials and logistics costs (Photo: Eupia)
A series of mutually reinforcing problems are applying pressure to printing ink manufacturers all over Europe. Increased pigment costs, shortages in upstream petrochemical supply chains, price hikes for vegetable oil derivatives, and dramatically increased freight costs due to the lower availability of containers are some of the examples of a large number of destabilising factors facing the industry, according to the
European Printing Inks Association
(Eupia, Brussels / Belgium;
www.eupia.org
).
In the first quarter of 2021, for example, global prices for pigment raw materials – including titanium dioxide (TiO
2
) – rose sharply. This came mainly from high demand in all industries, increased demand in producing countries, a general imbalance between supply and demand and higher costs for pigment components.
While the actual costs varied greatly by region, the above-average costs per tonne were exacerbated by significantly higher freight costs. Even at this early point in 2021, TiO
2
supply is already reduced, with limited delivery flexibility beyond regular quantities. This has led to significantly longer lead times for securing supply and to further forecast instabilities.
With colour pigments, however, according to Eupia, both the cost increases for petrochemical raw materials and the increased logistics payments are driving up prices.
Commodity prices increasing sharply
In parallel to the pigments, petrochemical raw materials – including UV-curing resins, polyurethane, solvents and acrylic resins – have become dearer. Depending on the location, the following have been observed: bottlenecks in epoxy resins, a high demand for polypropylene glycols used to make polyols for flexible foams, and price hikes for acrylic acids.

In the lead up to 2021, an astonishing rally in vegetable oil pushed prices to a six-year high, a surge attributed to several mutually reinforcing developments: palm oil production is at a three-year low, while palm oil stocks worldwide are at reduced levels, and soybean oil shifted from a surplus to a deficit as unfavourable weather conditions in the US and drought damage in Latin America cut both production and supply, while Chinese imports and consumption rose faster than expected. These factors have impacted the cost of vegetable oils and derivatives such as alkyd resins and esters, which form the backbone of paste inks used in both packaging and publication printing.
Freight rates up over 400%
The global shipping industry is suffering an enormous disruption at the moment. The catalyst is the Covid-19 pandemic, which has sparked a surge in demand in international commerce. Previous container movements – usually point-to-point and back again with some regularity – have become increasingly chaotic. As a result, containers have been sent to ports around the world only to be stranded; many containers are now either in the wrong parts of the world or in unsuitable ports.
The imbalance between customer demand and scarcity has resulted in serious global cargo capacity constraints. For comparison: prices for containers between China and Europe have risen by more than 400% since Q4 2020 (see Plasteurope.com of
10.12.2020
).
Eupia represents more than 80 manufacturers in Europe with combined sales of EUR 2.8 bn in 2020, and that are responsible for some 830,000 t of printing inks. According to an association spokesperson, this amount corresponds to around 90% of total printing ink sales in Europe.
26.02.2021 Plasteurope.com [247004-0]
Published on 26.02.2021
German version of this article...