PRESS LONDON
UK drinks group rolls out bottles made from recycled and bioplastics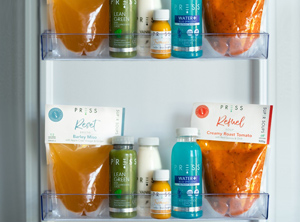 Press makes cold-pressed juices as well as soups packaged in flexible bags (Photo: Press London)
Soft drinks group
Press London
(London / UK;
www.press-london.com
) has announced that its bottles are now made from 75% rPET and 25% bioplastics made from sugar cane.
The group, which sells a range of premium-priced fruit juices, said its new bottles were 100% recyclable and that by using 75% recycled plastics it was removing around 18m t for every million bottles sold that would otherwise have ended up in landfill. Since the UK company aims to produce 2m units in 2019, it said this would save twice that amount ending up in the environment.
Press also said the manufacturing of recycled plastics produced 55% less carbon emissions than virgin plastics. "It's not the solution but it will make a huge impact over the course of a year," the group said. According to the drink group, there were several reasons why it chose to supply its products in plastic bottles. It uses chilled high-pressure processing, meaning if it were to switch to glass, it would have to heat-pasteurise its juices, and the concept of "cold-pressed" – one of its key selling points – would be gone. "We have spent a lot of time looking at glass and, if you do the maths, plastic has a significantly lower carbon footprint," the company said.
Press said its long-term aim was to create a completely "carbon neutral" supply chain. "Today we are working on projects in packaging, including algae-based plastics that biodegrade in 14 days, novel supply chain solutions and ways to offset our carbon footprint by planting trees."
05.09.2019 Plasteurope.com [243319-0]
Published on 05.09.2019