POLYPLASTICS
Launch of POM grades for automotive fuel systems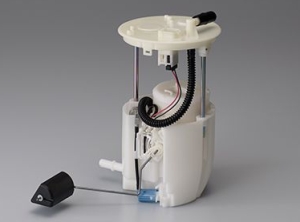 Among other things, "Duracon POM" is used in fuel system parts (Photo: Polyplastics)
Japanese engineering plastics producer
Polyplastics
(Tokyo;
www.polyplastics.com
) has launched several grades of POM with high flow and high rigidity, boosting its range of "Duracon" products that are widely used in automotive fuel system components.
The high rigidity of the "Duracon H140-54C" grade facilitates the production of small thinwall parts while its higher flow suppresses increases in peak pressure during injection moulding. Polyplastics said the material, which has a melt flow rate of around 14, is suitable for a range of moulding conditions, such as cylinder and injection pressure.
The company has also announced a developmental POM grade that provides "exceptional" acid resistance and is targeted at fuel system applications where parts can be damaged by the acidity in automotive cleaning liquids, rain and other substances. Polyplastics said this new grade provides "significant improvements" over POM's traditional vulnerability to strong acids.
In addition, Polyplastics has developed an electrically conductive grade of POM that prevents static electricity in components that surround fuel. The company noted that this grade also retains its key performance characteristics such as flowability and toughness, attributes that can typically be reduced when resins are imparted with conductive properties.
08.07.2019 Plasteurope.com [242801-0]
Published on 08.07.2019