POLYETHYLENE FILM
Russia shows continued solid growth / Higher-grade applications increasing fastest / Food packaging leads the market / Only 15% of consumption is imported / Economic crisis is causing only slight slowdown
Polyethylene film extrusion now accounts for around 20% of European polymer consumption, and Russia is making great strides to participate in this growth. At the beginning of the 1990s, Russia's plastics film industry had more or less collapsed and remained extremely weak until the end of the millennium, market research group
Applied Market Information
(AMI, Bristol / UK;
www.amiplastics.com
) says in its newly published "AMI's Guide to the Polyethylene Film Extrusion Industry in Russia". Since 2000, Russia's film output has risen by an average of 14% a year – due mainly to PE stretch film and multi-layer film, AMI says.
Figures show 2008 consumption at around 730,000 t, some 17% of the country's total polymer consumption. The forward surge was driven by the trend to more sophisticated forms of food packaging, reflecting investment by major international food producers and supermarket chains.
The structure of the plastics films market has changed considerably. The strong position LDPE holds today can be traced back to the Soviet period, mainly to the availability of material in the country and the lack of facilities for manufacturing multi-layer film. Since the 1990s, LDPE's share has fallen consistently from over 73% in 2000 to 64%. By comparison, LDPE accounts for 56% of total PE consumption in the European plastic films industry.
Linear low density PE films now account for 17% share of Russian consumption, while HDPE's share has risen to 19%. Many high-grade metallocene barrier films are still not manufactured in Russia. Imports, once accounting for 30% of consumption, have fallen to only 15% – and the trend continues downward.
Only small quantities of PE film are used in agriculture and construction. According to the AMI report, almost all of the remaining consumption, nearly 86%, goes into various types of packaging – primarily for food. Here, plastics have frequently replaced other materials such as paper, cellulose and aluminium – especially where higher-grade packaging is specified.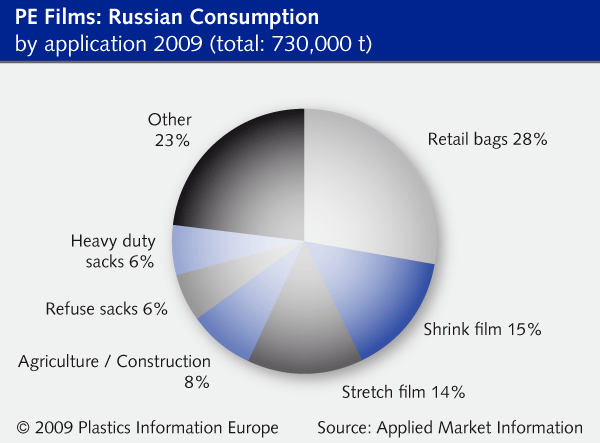 More and more Russians are doing their grocery shopping in supermarkets. At the same time, their needs are being redefined with the expanding possibilities, AMI explains. The twin objectives of keeping food fresh longer and avoiding transport damage is promoting the use of coextruded barrier film. The trend to urbanisation and the mounting prosperity of the population are also encouraging consumption of snacks and ready-to-eat meals.
Manufacturers of PE film in Russia are extremely difficult to identify, says AMI. The industry is still very much in a state of flux. Rampant corruption, for example, led to the founding of many companies that never even began production. The market research company lists 230 companies that it says account for around 80% of Russian production. At the same time, it cautions that other estimates put the number of firms engaged in film extrusion at several thousand.
Film manufacturers for the most part are scattered throughout the eastern provinces and the republics of the Russian federation. The largest volumes are produced in and around Moscow as well as in the provinces of Nizhny Novgorod, Samara and Rostov. In the Republic of Bashkortostan there is also a major integrated film manufacturing facility. In all, some 60% of Russia's total volume of PE film is produced in these regions.
The most important film manufacturers were founded after the end of the Soviet era, to manufacture products that were previously inaccessible. The largest stretch film manufacturers according to AMI are
VarioPak
(St Petersburg),
Regent Stretch
(Moscow;
www.regent.ru/eng/regent-s
),
Nova Roll
(Moscow) and
Lava
(Vyazma). As concerns film products generally,
NTL Upakovka
(Saint Petersburg),
Novatek
(Novokuybyshevsk;
www.novatek.ru/eng
),
Interpack
(Nizhny-Novgorod) and
Polymer
(Desnogrorsk) lead the market.
Until now,
Sealed Air
(Saddle Brook, New Jersey / USA;
www.sealedair.com
) and
Constantia Packaging
(Vienna / Austria;
www.constantiapackaging.com
) have been the only Western companies to produce blown film in Russia. Most other investments have gone into film processing.
Nordenia International
(Greven / Germany;
www.nordenia.com
), for example, has a plant in the country, while
Amcor Flexibles
(Abbotsford / Australia;
www.amcor.com
) has a site for printing, laminating and cutting.
Despite the deterioration of the market due to the economic crisis, manufacture of PE film in Russia will continue to increase in the next five years, says AMI. Following a poor 2009, the Russian economy as a whole should begin growing again in 2010, by 3-4% a year. This could mean the postponement of some new production facilities and capacity expansions, but at the same time, local producers will profit from the weak ruble, which will make imports more expensive. In addition, the country has a per capita consumption of PE film totalling just 5 kg compared with an average of 16 kg in Europe, so there is still considerable potential for growth.
Book Service
:
AMI's "Guide to the Polyethylene Film Extrusion Industry in Russia", 1st edition 2009, 65 pages, bound: EUR 255 + VAT,
PIE No:
47357
.
10.06.2009 Plasteurope.com 787 [213488-0]
Published on 10.06.2009
German version of this article...