PLASTIPAK
20,000 t/y rPET facility opens in Spain / Solar panel power plant significantly lowers carbon emissions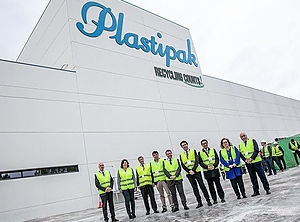 The opening of the plant in Spain (Photo: Plastipak)
US packaging giant
Plastipak
(Plymouth, Michigan;
www.plastipak.com
) has announced the opening of a new rPET plant at its Toledo, Spain, manufacturing site that converts PET flake into food-grade recycled pellets suitable for direct use in new preforms, bottles, and rigid containers.
The company said the facility will produce 20,000 t/y of food-grade rPET pellets and is its fifth recycling facility, joining other plants located in the US, France, Luxembourg, and the UK. Overall, Plastipak produces more than 150,000 t/y of food-grade rPET.
Pedro Martins
, Plastipak's executive managing director Europe, said "the use of rPET is a key tool in reducing customers Scope 3 emissions and forms an important part of their ESG-packaging related commitments". It also supports customer efforts to reduce their financial obligations under the planned Spanish plastics tax and contributes to meeting the minimum recycled content levels mandated by the European Single Use Plastics Directive, Martins said.
In Spain, a new tax on non-reusable plastics packaging is set to take effect on 1 January 2023. The rate is EUR 0.45/kg for non-recycled packaging, and the tax is expected to bring EUR 724 mn of revenue annually to the country's treasury (see Plasteurope.com of
09.08.2022
).
Site choice, sunshine cut emissions
The location of the plant eliminates transport-related emissions for the recycled resin as it is part of Plastipak's PET preform manufacturing site in Toledo.
The recycling facility incorporates energy-saving technologies and equipment, including more than 1,800 photovoltaic (PV) rooftop solar panels, which are expected to generate more than 1,339 MWh/y of electricity to be used entirely on site. This will save more than 443 t/y of CO
2
through the avoidance of consumption of electricity from the national grid. This is in addition to CO
2
avoided from processing 20,000 t of recycled resin instead of virgin PET material.
The company said 100% of the electricity it uses in Europe comes from renewable resources. The new facility is said to be the second on-site renewable power generation project for Plastipak in Europe.
At the start of this year, Plastipak had already significantly expanded reclaim capacity at its site in Bascharage, Luxembourg, where washed rPET flakes from post-consumer bottles have been processed into food-grade rPET granules since 2008 (see Plasteurope.com of
01.02.2022
). The company is by its own account a leading European producer of food-grade rPET, which is, however, largely fed into its own production.
Plastipak's global production network includes 40 sites in Africa, Asia, Europe, South America, and the US. It most recently reported revenue of over USD 3 bn with a staff of 6,000.
25.11.2022 Plasteurope.com [251605-0]
Published on 25.11.2022
German version of this article...