PLASTIC PIPES
Doubling the use of recyclate in Germany is realistic, says plastic pipes association KRV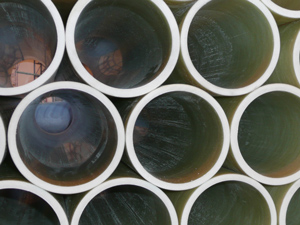 Cable-routing pipes could be made from 100% recycled materials (Photo: KRV)
Within the next five to ten years, Germany's plastic pipes manufacturers aim to double the amount of recyclate processed annually, from currently around 40,000 t/y to 82,000 t/y. This would increase the share of secondary resin from 7% to 14%. The German plastic pipes association
Kunststoffrohrverband
(KRV, Bonn;
www.krv.de
) confirms that this is an achievable goal.
In 2018, 727,000 t of materials were used in Germany to manufacture plastic pipe systems. Of this amount, about one third was used in areas with health or safety relevance, such as gas and water supply, where high quality standards prevent the use of recyclate. The remaining 480,000 t, however, could gradually be replaced by secondary materials. Pipes for waste water applications could be produced by blending in recyclate, and pipes used for routing cables or rainwater management could be manufactured with 100% recyclate.
The KRV told
Plasteurope.com
that it estimates the targeted increase of recyclate usage could be achieved in five years at the earliest to ten years at the latest, depending on several factors. "More recycling first requires appropriate framework conditions," said KRV managing director
Elmar Löckenhoff
. Limiting factors are, for example, blanket bans on the use of certain chemicals or labelling requirements that prevent the resale of products with recycled components.
The plastic pipes industry would prefer voluntary commitments and market-based incentive systems, Löckenhoff continued. General product bans or undifferentiated taxation on plastics are not considered to be effective. It would be more important to increase recyclate usage through quality-related standardisation. In addition, it would be necessary to harmonise any conflicting objectives within the framework of European chemicals policies.
28.05.2019 Plasteurope.com [242550-0]
Published on 28.05.2019
German version of this article...