PLASTIC OMNIUM
Profits under pressure in H1 / Automotive supplier repeats forecast nevertheless / Investments in electromobility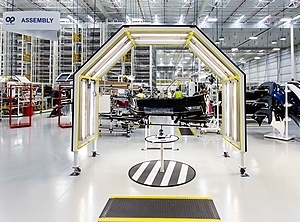 Record order intake: Production is brisk (Photo: Plastic Omnium)
Even if CEO
Laurent Favre
stresses the "strong performance" and "strong resilience" of his company,
Plastic Omnium
(Levallois, France;
www.plasticomnium.com
), he can't deny the pressure on margins and the decline in profits in the industry in the first half of 2022.
Plastic Omnium was able to more than compensate for declining revenues in Europe and China with increases in other regions. Sales (excluding JVs) for the first six months hit EUR 3.92 bn, a rise of 3.6% from a year earlier. And this increase was only based on positive currency effects – excluding these, adjusted turnover stagnated slightly below (-0.1%) the comparable level of the previous year.
Declines in results, however, could not be avoided. Net profit fell 27% to EUR 104 mn, and operating profit dropped 24% to EUR 179 mn. As a result, the operating margin slipped 1.6 percentage points to 4.6%.
Watching the path forward
Favre emphasised that his company had focused on the future during the reporting period. This probably means further investments in electromobility. Plastic Omnium is investing EUR 20 mn in battery manufacturer
Verkor
(Grenoble, France;
www.verkor.com
) within the framework of a strategic partnership and is thus securing purchase rights for part of Verkor's domestic production in Dunkirk. Additionally, the company is about to acquire Actia Power, the battery division of the
Actia Group
(Toulouse, France;
www.actia.com
), with its 200 employees and annual sales of EUR 22 mn. The transaction is expected to be completed in the third quarter, with Actia Power valued at EUR 52.5 mn.
Plastic Omnium also completed the acquisition of
Osram
's Automotive Lighting Systems business unit (AMLS, Munich, Germany;
www.osram-amls.com
). Together with the previously acquired Varroc Lighting Systems, AMLS has formed the newly created lighting division of the French supplier since 1 July (see Plasteurope.com of
12.05.2022
). Consolidated pro-forma sales of the new division, with 11 plants and 7,000 employees, were EUR 1 bn last year and are expected to rise to EUR 1.5 bn by 2027.
In the existing segments, the industrial business increased sales 3.3% to EUR 2.83 bn in the first half of 2022, while operating profit plunged 24% to EUR 159 mn. The Modules segment increased sales by 4.4% to EUR 1.09 bn and saw a 20% drop in operating profit to EUR 20 mn.
In terms of regions, Europe and China were on the losing side. In the former, revenue fell 6.1% to EUR 2.14 bn. Adjusted for currency effects, the business in the latter also recorded a decline (down 6.4%), while gains came in the rest of Asia (up 16%), North America (up 11%), and the other regions (up 17%).
With order intake at record levels, Plastic Omnium is looking ahead with confidence: management confirmed its forecasts for 2022, according to which sales should outperform global automotive production and the operating margin should be between 5% and 6%.
29.07.2022 Plasteurope.com [250861-0]
Published on 29.07.2022
German version of this article...