PLASTIC FANTASTIC
Not a touchdown, but easily a new first down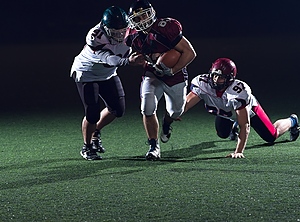 Fighting to reach greener figures (Photo: PantherMedia/shock)
It's not easy being green – especially when you're hosting an event watched by 113 million sports enthusiasts (and roughly six million Rihanna fans) in the US alone. The carbon footprint is enormous. The stadium uses as much power as over 7,000 households, and let's not get started on the Super Bowl Ad Blitz… well, maybe just a bit: last year's 10 most popular ads clocked in at 422 t of carbon emissions. Do yourself a favour, don't look at the figures for digital advertisers.

But! Super Bowls are, in fact, greening. Among other efforts, the Arizona Super Bowl Host Committee set the lofty goal of diverting 92% of Super Bowl waste from landfill – post-consumer PET alone comes to an extra 2,000 t – and its community greening initiative is all set to offset 4.5 t of carbon emissions by 2030.

This might not seem like a big thing when we just read those big numbers earlier on, but let's call this a win anyway. After all, LVII is the greenest Super Bowl to date (in Arizona)!
17.02.2023 Plasteurope.com [252227-0]
Published on 17.02.2023