PLASTIC FANTASTIC
Want a beer in the UK? Show us the plastic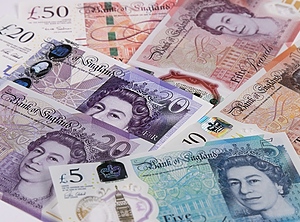 Legal tender? Only if it's made of plastic (Photo: Bank of England)
Cash or charge? Debit or credit? Paper or plastic? The meaning of the first two questions hasn't changed but in brave new Brexitland the change in the third is a sea change.

Take heed, all ye behind-the-moon, out-of-the loop – or foreign – shoppers. From London to Glasgow, that crinkly paper note in your wallet is worth not a farthing. Be the face on the front the same old Queen Elizabeth II or Prime Minister Winston Churchill the One and Only, plastic now rules, and if you don't have any you won't get far.

For the Brits, and the island's tourists, "paper or plastic" is no longer a lifestyle choice, or a choice at all. It's all about money. Not what you can pay for but what you can pay with. Of course, you can pull a card. But what if you're holding cash from last year's trip?

Since October 2022, only plastic notes are legal tender. The polymer "fiver" – for which The Carbon Trust calculates a carbon footprint 16% lower than its paper predecessor – will buy you half a pint of beer or a small glass of wine in Glasgow's Royal Concert Hall. The paper version won't buy anything.

Just don't try to feed the plastic notes into the self-checkout terminals of a Marks & Spencer's Simply Food outlet. Most won't take cash made of any material, even plastic. Swipe the card or try your luck elsewhere.

If all else fails, foreign exchange counters in city shopping malls will convert the paper Winnie or Liz into paper euros or dollars. But the drink's on you.
24.02.2023 Plasteurope.com [252182-0]
Published on 24.02.2023