PLASTIC FANTASTIC
Marine litter? Bacteria to the rescue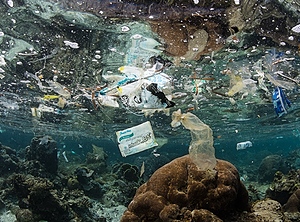 "Give me plastic, I'll give you carbon dioxide" (Photo: PantherMedia/ead72)
Scientists at the Royal Netherlands Institute for Sea Research (NIOZ) now have reason to believe bacteria are devouring parts of the plastics that enter the ocean.

PhD student Maaike Goudriaan explains that sunlight partially breaks down the plastic in the body of water into bite-sized chunks for bacteria. It is then devoured by the bug bacterium Rhodococcus ruber, which digests it and excretes carbon dioxide.

"This is the first time we have proven in this way that bacteria actually digest plastic into CO2 and other molecules," Goudriaan states. When she calculated the total breakdown of plastic into CO2, she estimated that the bacteria can break down about one percent of the available plastic per year.

Even if it's just one percent, it's one percent more than zero. Reason enough to celebrate?
27.01.2023 Plasteurope.com [252087-0]
Published on 27.01.2023