PLASTIC FANTASTIC
A sign of these confusing times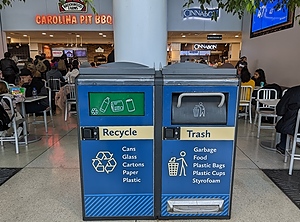 Wait a sec.... (Photo: PIE)
Let's face it: 2022 has been another year some of us would like to forget. In fact, many of us may already have. How many of you still think it's 2020?

Go ahead and put your hands down. Regardless of your views on the past 12 months, most people would agree that we don't need anything else to confuse us right now. No more misinformation. No more obfuscation. We demand clarity.

And then one of our intrepid editors was routed through the US airport in Charlotte, North Carolina, an excellent stopover, where a local sometimes tickles the ivories of a grand piano in front of a resplendent food court.

However, when the airport waste bin cannot clearly instruct weary travellers on how to throw out their plastics, it is brazenly apparent that we have a long way to go before we can wrangle all the world's polymer trash.

Happy Holidays!
23.12.2022 Plasteurope.com [251791-0]
Published on 23.12.2022