PLASTIC FANTASTIC
Deck the halls with boughs of plastic...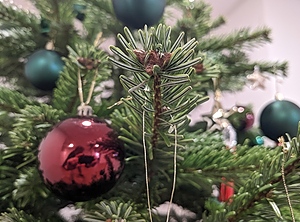 Who wants to have to sweep up all those needles anyway? (Photo: PIE)
Do you already have your Christmas tree? If not, please remember: forests are dying, so leave the suffering fauna and flora alone and put a nice plastic fir in the living room.

Thanks to modern injection moulding, these gems made of polyethylene and PVC have not only grown much more evenly than their often-crippled colleagues from the cold, they also scratch your family significantly less. And with a regularly refilled forest aroma cartridge, they spread an inimitable aroma for weeks, the real smell of resin and home.

After the holiday, the plastic trees can be disposed of without any problems: simply throw them over the neighbour's fence because after only three-and-a-half-thousand years virtually everything is compost.
16.12.2022 Plasteurope.com [251713-0]
Published on 16.12.2022