PLASTIC FANTASTIC
Saving lives – Help Ukraine now!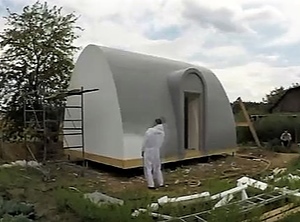 One of the shelters in Ukraine (Screenshot: Eurokurin)
For the past nine months, military forces controlled by Russian President
Vladimir Putin
have been hammering Ukraine in a murderous war of aggression. Tens of thousands of Ukrainians have become homeless.
To survive the next few months, many in the warzone urgently need shelter. This is where the aid organisation
Eurokurin
(
https://komanda2402.org.ua/en
) comes in with its "First Aid Houses": these small homes can be quickly assembled from a few modules and, insulated with EPS and a special plastic coating, they can protect against winter weather.
Ingo Kleba
, MD at polyurethane house
Rühl Puromer
, a unit of Germany's
Rühl Group
(Friedrichsdorf;
www.ruehl-ag.com/en/
), is working with a compatriot non-profit in the city of Bad Homburg called Ukraine Help Now to build these mini houses: "We support affected families, whose names we know. We are financing three such houses and they are currently being built in Butscha and Moschun."
Anyone who also wants to help and donate can find all the information (in German)
here
. Donations should be marked "Mini-Häuser".
25.11.2022 Plasteurope.com [251575-0]
Published on 25.11.2022