PLASTIC FANTASTIC
If Linus – the one with the blanket – were to visit the K Show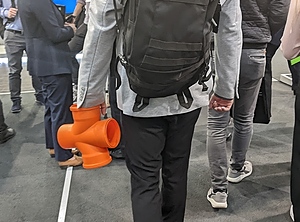 Right colour, wrong shape (Photo: PIE/Culp)
First there was a rumour. A rumour of pumpkins, the greatest of gourds. And they were allegedly at the K 2022 show in Düsseldorf, Germany, and ready for Halloween at the end of October as they had already been turned into jack o'lanterns, their strange eyes and mouth there to scare away the evil spirits. They were even prepared for multiple holidays as they were made of plastics. But where to find them….

Then there was a photo in a newspaper at the show. Quick, is the location listed in the caption? No!

Where was this elusive ghost of an autumn holiday tradition?

Your intrepid reporter decided to leave the newsroom – there is no news in the newsroom anyway – and investigate this issue. But where to start? It looked like an injection moulded product, so off to the halls ending in "teen".

Those who have been to the show know how big those temporary homes for machinery can be. But wait, a clue! One in the form of an orange plastic component in the hands of a visitor. Right colour, wrong shape. But hey, let's follow that guy.

Then, sitting on the counter of the booth of the US-based Plastics Machinery Group, it was the objects of our desire. With a little friendly coaxing, the owner pointed us in the right direction….

And there they were, in all their glory: stacks of them even, the Great K 2022 Pumpkin if you will, and a long line of swag hunters waiting for their very own trophy to take home.

Where can visitors secure such a prize? Better to let everyone have their own personal adventure hunting for pumpkins at K 2022 than reveal their location. Good luck!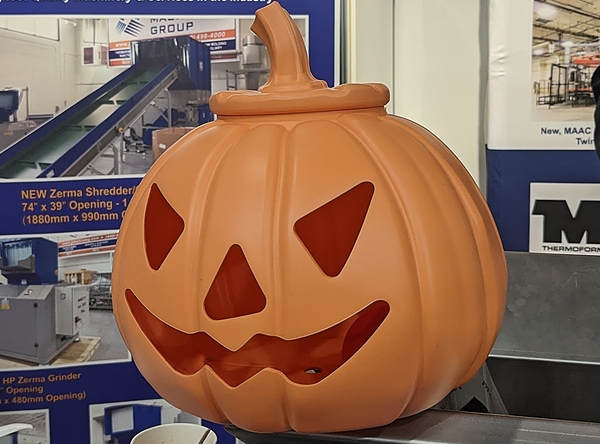 Wait long enough and you too can have have one hot off the conveyer belt (Photo: PIE/Culp)
21.10.2022 Plasteurope.com [251426-0]
Published on 21.10.2022