PLASTIC FANTASTIC
A truly global industry, but not always in a good way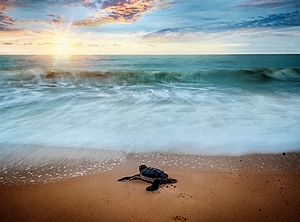 What is out there, apart from predators and plastic waste? A baby turtle on its way to an uncertain future (Photo: Pexels Darwis Alwan)
A young green turtle (chelonia mydas) was recently found on Sydney beach and taken to nearby
Taronga Zoo
(
https://taronga.org.au
) to be nursed back to health. There, the palm-sized marine reptile did not eat anything for six day.
It was however digesting something: its droppings weren't the remains of algae, mussels, or jellyfish that are typical of sea turtle feedings – only colourful plastic particles of various sizes.
You don't have to be a zoologist to know that such a diet is not species-appropriate. And you don't have to be a militant ecologist to say, it's high time that something changed….
Related:
134 different animal species affected by plastic marine litter in the Mediterranean – WWF study
05.08.2022 Plasteurope.com [250893-0]
Published on 05.08.2022