PLASTIC FANTASTIC
Time to summer-proof your country with polymers?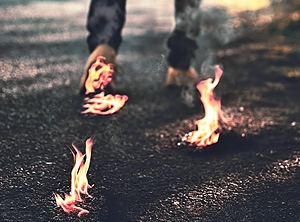 With PEEK and PAI, this would not have happened... (Photo: Pexels/Ashutosh Sonwani)
In Germany, temperatures of more than 40C were recorded recently, and the UK recently set a record above that psychologically (and often physiologically) important mark. It's got to a point where even the most summer-loving plants are burning to the ground.

The heat wave also had England well in its grasp, and there it melted a Royal Air Force runway, forcing pilots to take a break. In Germany, railway tracks bend and motorways burst open every summer.

When will humanity finally do away with such fussy, sensitive materials as concrete and bitumen? When will we pave the whole continent with polyamide imides and polyether ether ketones?
29.07.2022 Plasteurope.com [250865-0]
Published on 29.07.2022