PLASTIC FANTASTIC
A typical cultural export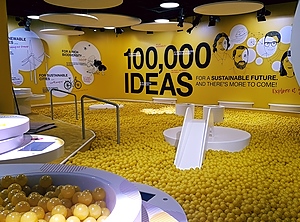 Dive right in! (Photo: factsandfiction/Andreas Keller)
Generations of German children have spent at least some of their youth swimming amongst plastic balls, leaving their parents to shop carefree. What's for good kids can't be bad for the adults seems to be the maxim behind the German Pavilion at the once-postponed and now recently opened Expo 2020 in Dubai, which features a huge ball pit in the futuristically designed exhibition hall.

Knee-deep with more than 100,000 bright yellow balls (made from polyethylene recyclate, of course), the pit offers visitors the opportunity to bask, wallow, and even learn: these orbs are programmed high-tech devices that, with the help of a reader, tell the bather stories about how far Germany is in terms of sustainability.

After the Expo, the spheres are set to roll into their new homes at local kindergartens. Overall, this the project earns points for didactic value, political correctness and the chance to go "swimming" in the desert nation.
22.10.2021 Plasteurope.com [248751-0]
Published on 22.10.2021