PLASTIC FANTASTIC
A scooter that fits into your backpack!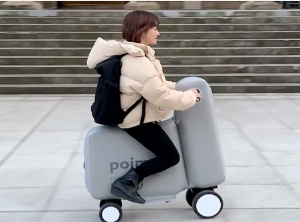 The POrtable and Inflatable MObility, or "Poimo" for short (Photo: University of Tokyo / Mercari R4D)
It's hard to imagine the cityscape of many large cities without it: the scooter that ensures we don't have to walk the famous last mile. Now, there is an alternative to the beloved two-wheeler, in the form of a tiny electric scooter that can fit into your backpack! Created by students at the University of Tokyo in Japan, "Poimo" (POrtable and Inflatable MObility) just needs to be unfolded and inflated, and comes with attachable components including the steering handles, wheels, battery and motor.

The unique scooter's body is made of thermoplastic polyurethane, which makes it easy and light to carry around in a backpack. While the scooter can be inflated either manually or with an electric compressor, the one-hour battery life in it is counted as a "premium feature". For those not wanting to go premium, the scooter can simply be steered by shifting weight, the way a skateboard is. There are no lights, bells or brakes, as it goes up to a walking speed of 6 km/hr. In the event of a collision, however, a sufficiently soft crumple zone has been provided!
08.01.2021 Plasteurope.com [246441-0]
Published on 08.01.2021