PLASTIC FANTASTIC
Quality. Chocolate. Squared. Trademarked.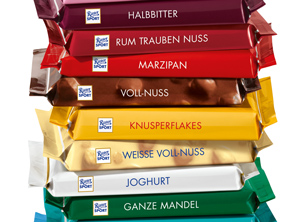 A stack of chocolate with no artistic value, according to the German Federal Court of Justice (Photo: Ritter Sport)
"Let's make a chocolate bar that fits in everyone's jacket pocket without breaking and weighs the same as a normal long bar." According to Ritter Sport, it was co-founder Clara Ritter who had this idea in 1932, thereby kicking off a nearly 90-year (almost) monopoly on square chocolate bars. Thanks to some rather inspired marketing strategies, the Ritter Sport shape and colour palette – the packaging went technicolour around the same time as TV – are instantly recognisable around the world.

Several years ago, however, a battle among chocolate giants began when Milka challenged Ritter Sport's trademark on the square shape – from which the latter has now emerged victorious. The German Federal Court of Justice on 23 July ruled that the quality of Ritter Sport chocolate has nothing to do with advertisement and that the square-shaped packaging has no particular artistic value – which the hardworking people in Ritter Sport's marketing department were likely thrilled to hear.
31.07.2020 Plasteurope.com [245642-0]
Published on 31.07.2020