PLASTIC FANTASTIC
For salmon, a safe passage to the other side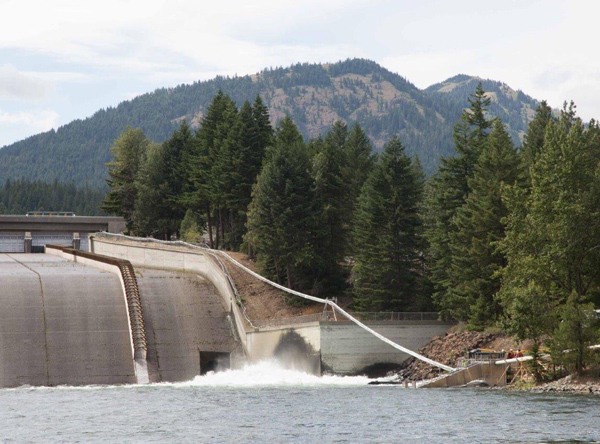 Great for the salmon, but bears might be missing out on some dinner (Photo: Whooshh)
In this social media-tinted age of instant, sometimes negative reaction, buzz words like plastic often provoke heated discussion in the press or in pubs. Migration is another, while artificial intelligence may also be eyed suspiciously. And what about shooting? A new product called
"Whooshh Passage"
– an escape tunnel for salmon whose migration path is blocked by a dam – joins all four in a sustainable cause most would support.
Plastic is key to the modular, portable fish transport system that its inventor
Whooshh Innovations
says takes a faster and gentler approach to the migration problem. Modern technology's answer to the fish ladder, it uses artificial intelligence to sort the salmon, leaving invasive species behind. Then after a quick stopover in a scanner, they are "shot" in a flexible plastic tube, up to 12m long, to a new life on the other side – of the dam. The soft plastic is misted every 1.5m, assuring there is no stress during the 10- to 15-second journey, the company says.
Compared with fish ladders, Whooshh Passage is considerably more sustainable, its manufacturer says. The water it consumes can later be used for irrigation or to produce carbon-free hydropower.
23.08.2019 Plasteurope.com [243236-0]
Published on 23.08.2019