PLASTIC FANTASTIC
Ineos dishes it out to TV cook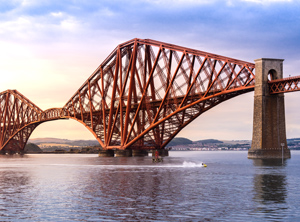 The Forth railway bridge might have seen some pellets passing underneath on the Firth of Forth (Photo: Panthermedia/vichie81)
The pellet with the poison's in the vessel with the pestle – the tongue twister made famous by the 1955 film "The Court Jester" to pre-internet audiences comes to mind when reading about a British TV cook's "War on Plastic". Hugh Fearnley-Whittingstall has his own version of that.

Plastic is the poison, Fearnley-Whittingstall says, and it's sweeping the world. The pellets with the "poison" washing up on the shores of the Firth of Forth in Scotland may have come from Ineos' Grangemouth complex about 19 km away, he suggested in a recent episode of a four-part BBC documentary series. But by taking on Ineos, the cook-turned-TV star with a mission didn't reckon with Jim Ratcliffe – another man with a mission who can dish it out as well.

The pellets sullying the sands in the Firth of Forth can't be from Grangemouth – it's too close. If Ineos had been dumping – which it hadn't – Ratcliffe insisted, the scrap would have drifted much farther. Anyway, the company participates in PlasticsEurope's "Operation Clean Sweep" programme, which ensures that no pellets leave the premises, said "Sir Jim", perhaps putting a different twist on what "sweeping the world" means.
12.07.2019 Plasteurope.com [242646-0]
Published on 12.07.2019