PLASTIC FANTASTIC
Eat your fork and save a whale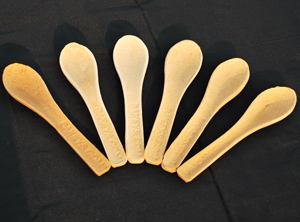 Eatable, decomposable spoons (Photo: Bakeys)
To end unsightly landfilling and rid oceans of the waves of the plastic waste killing marine life, cities, countries and even economic blocs like the EU are increasingly banning single-trip plastic convenience products – such as the disposable cutlery now de rigueur in the supermarket take-away section.

Understandable in view of the growing waste problem, especially as collection of disposables absorbs resources and produces greenhouse gases. What if you were able to eat the fork with the salad?

Before visions of medics carrying stomach pumps make the rounds, Narayana Peesapaty, owner of Indian cutlery manufacturer Bakeys, notes that his edible forks and spoons made of millet, rice and wheat flour are indeed digestible. The vegan cutlery comes in plain, sweet and spicy flavours and tastes like crackers, he says. If you don't feel like eating it, toss it anywhere and it will decompose within days – if not eaten by an animal first.

The down side of this otherwise lofty idea is that because the edibles are more likely than plastic to break, the cutlery comes packaged in paper bags and boxed in polystyrene. Also, like water from public drinking fountains, it can't be reused. There's one consolation, though. The products are completely recyclable – in a natural kind of way.
17.08.2018 Plasteurope.com [240346-0]
Published on 17.08.2018