PLASTICS WASTE
Study says global brands undershooting plastics reduction goals / Coca-Cola and Unilever reiterate commitment to targets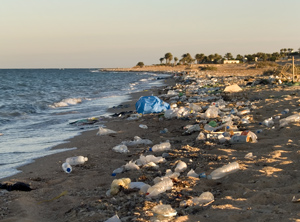 Concerns continue about waste that fails to enter the recycling loop (Photo: Panthermedia/Tronko)
A new report claims some of the world's leading brands are falling short of their targets to reduce plastics waste and actively work to stop or slow legislation designed to regulate single-use plastics. Published by sustainability pressure group
Changing Markets Foundation
(Utrecht / The Netherlands;
www.changingmarkets.org
), the 98-page report –
Talking Trash: The Corporate Playbook of False Solutions to the Plastic Crisis
– claims that while brands such as
Coca-Cola
(Atlanta, Georgia / USA;
www.coca-colacompany.com
),
Unilever
(Rotterdam / The Netherlands;
www.unilever.com
) and
Procter & Gamble
(P&G, Cincinnati, Ohio / USA;
www.us.pg.com
) publicised their support for initiatives to address plastics waste, they simultaneously used "trade associations, producer responsibility organisations and even fake environmental groups to aggressively oppose and lobby to delay progressive legislation to tackle the plastics crisis." The report called on governments around the world to take "drastic legislative action to bring [the plastic crisis] under control."
Describing Coca-Cola as the "biggest polluter in the world", the report said while the drinks giant was committed to 10 voluntary initiatives to solve plastics waste it was also a member of at least seven trade associations that lobbied against deposit return systems or other legislation to regulate single-use plastics. "On the surface, Coca-Cola has committed to a 'World Without Waste', [but] the report shows that over the last 30 years, it has continuously broken, delayed or shifted the goalposts on most of its impressive-sounding targets. In 1990, for example, the company committed to having 25% recycled content in their bottles, but 30 years later they are only at 10%."
Companies say they are doing the work
Responding to the report, Coca-Cola said, "We are confident about our current World Without Waste goals despite them being more ambitious than our previous targets. Learning from past experience, engaging in new and existing partnerships – including a meaningful one with the
Ellen MacArthur Foundation
– and our steadfast commitment to make a difference in the communities where we operate will help us achieve our ambitions." Unilever countered that the company knows it "urgently" needs to get to a circular economy. "We must go further faster, which is why we've committed to halving our use of virgin plastic, including an absolute reduction, by 2025," (see Plasteurope.com of
16.10.2019
). Proctor & Gamble did not to reply to a
Plasteurope.com
query on the topic.
All three companies recently joined a group of more than 80 firms and organisations that plant to test the viability of digital watermarks for plastics packaging in an attempt to improve waste sorting (see Plasteurope.com of
18.09.2020
).
A report by US environmental pressure group
As You Sow
criticises brand owners and retailers for failing to address the waste crisis (see Plasteurope.com of
14.07.2020
).
06.10.2020 Plasteurope.com [246017-0]
Published on 06.10.2020