PLASTICS RECYCLING UK
Certification system extended to cover all packaging types
A certification scheme originally created to highlight the recyclability of rigid and flexible plastic packaging has been extended across all packaging materials in an effort to remove confusion over recyclable packaging design. Launched by UK packaging labelling scheme
On-Pack Recycling Label
(Petersborough;
www.oprl.org.uk
), the new "Certified As Recyclable" system is available exclusively to OPRL members and supports efforts to meet a range of sustainability commitments, including the UK Plastics Pact, which sees almost 100 organisations working to reduce the impact of plastics waste (see Plasteurope.com
04.05.2018
).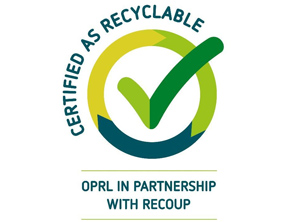 The OPRL certification is now available for all packaging materials (Image: OPRL)
Initially available for rigid and flexible plastic packaging in partnership with
Recoup
(Peterborough;
www.recoup.org
), Certified As Recyclable now covers all packaging materials. It will align with the OPRL's labelling rules and its online self-evaluation assessments via the UK Packaging Recyclability Evaluation Portal (PREP).
OPRL said certification would provide assurance that the packaging type and materials are collected in the UK for recycling, that they can be effectively sorted for reclaim at UK material and plastics recovery facilities (MRFs and PRFs), and that there will be an effective market for the resulting recyclate. Assessments carried out by Recoup will be made against the evidence base underpinning OPRL's recycling labelling scheme and its online self-evaluation tool with new tests at MRFs and PRFs where new evidence is needed.
Jane Bevis
, OPRL's chair, said her organisation had been concerned for some time about greenwash and overclaims in the packaging market. "We're delighted to be able to bring clarity and robust analysis to bear with Certified As Recyclable, enabling buyers and specifiers to ensure they are sourcing the right packaging to deliver their sustainability commitments."
Recoup CEO
Stuart Foster
said, "We're delighted that our ongoing close partnership with OPRL has led to this first phase of their Certified As Recyclable scheme, which complements our wider work in this area. It's a great example of a collaboration between two leading recycling organisations that will bring major benefits to drive up recycling and drive out bad design."
12.10.2020 Plasteurope.com [246066-0]
Published on 12.10.2020