PLASTICS RECYCLING UK
The Black Plastic Packaging Recycling Forum brings together 61 stakeholders / Organisation seeks solutions to black waste sorting by 2018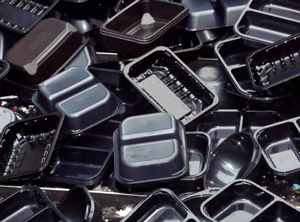 Black trays are commonly used for "ready" meals due to good heat-conducting properties (Photo: Recoup)
A new industry group, the
Black Plastic Packaging Recycling Forum
(BPPRF), has been established in the UK. The forum hopes to have created and put into place sustainable solutions to recycle all types of black plastic packaging by the end of 2018.
Black plastic is effective in conducting heat for ready-to-cook packaged food trays as well as visually appealing for food item presentation, and many brand identities use black. The plastic can be manufactured by mixing several colours together from different sources. Most black plastic packaging is coloured using carbon black pigments. Because these pigments absorb infrared light, they cannot be optically identified and sorted by many recycling facilities, which largely use near infrared (NIR) detection for materials/plastics sorting.
A report, published by circular economy consultancy
Waste and Resources Action Programme
(Wrap, Banbury / UK;
www.wrap.org.uk
) in 2011, estimated the volume of black plastic packaging entering the UK waste stream was between 30,000-60,000 t. UK organisation
Recycling of Used Plastics
(Recoup, Peterborough;
www.recoup.org
) estimated in 2016 that around 35,500 t of black pots and trays from the grocery sector enter UK waste.
Aiming to divert post-use black plastics back into the supply chain, the BPPRF (led by Recoup) numbers 61 organisations including packaging manufacturers, retailers, brand owners, recyclers and trade bodies. The BPPRF has created a "roadmap" that aims to roll out the use of pigments that can be detected by sorting technology, develop business models and technology solutions to sort existing black plastic material and investigate where alternative colours can be used in packaging such as pots, tubs and trays.
While a detectable black pigment has been around for some time, its widescale use requires all parts of the supply chain to work together; this has been "challenging," said Recoup. The organisation said investment was required at facilities to re-configure optical sorting equipment to detect the "new" black. "This only makes commercial sense if operators know that the volume of detectable black is great enough. There are commercial considerations for retailers," it added.
02.10.2017 Plasteurope.com [237996-0]
Published on 02.10.2017