PLASTICS PACKAGING
German packaging association discusses EU plans for minimum recyclate content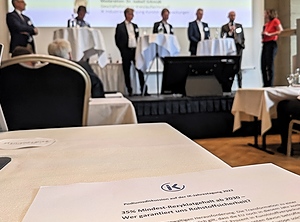 Topic of the panel discussion: EU quota for the use of recyclate (Photo: PIE)
While everyone is basically in agreement, the devil is in the detail. At its 2022 annual conference in Constance, Germany, German plastics packaging association
Industrievereinigung Kunststoffverpackungen
(IK, Bad Homburg;
www.kunststoffverpackungen.de
) held a panel discussion where the participants fielded the question "A minimum recyclate content of 35% – who is guaranteeing a secure supply of raw materials?" And to make it clear right from the start: any hopes for the single right answer were in vain.
This is not really surprising, of course. Too great are the differences in the positions and perspectives of the players along the value chain. While the waters of Lake Constance lapped lazily outside the windows of the conference centre, representatives of producers unceasingly pointed out the recycling efforts they were undertaking in a bid to boost the security of supply.
Related
:
Introduction of EU EPR legislation will have major impact
Peter Sandkuehler
, director sustainability EMEA, Packaging & Specialty Plastics at
Dow
, cited his company's recently publicised plans to construct Europe's largest chemical recycling plant at its east German facility in Böhlen by 2025, with a processing capacity of some 120,000 t/y (see Plasteurope.com of
20.09.2022
).
The second producer on the panel,
Matthias Stechhan
, head of marketing in Central Europe at
LyondellBasell
, also spoke out in favour of chemical recycling. Noting that this technology alone would not be able to solve the problem of securing the supply of recycled plastics, Stechhan stressed that "chemical recycling constitutes the core technology of the future if we want to attain the EU targets". He announced the construction of an industrial-scale plant by 2026.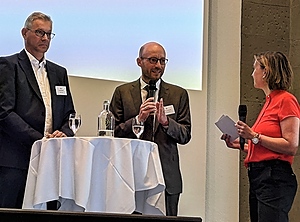 Left to right: bvse's Herbert Snell, Dow's Peter Sandkuehler, and IK's Isabell Schmidt (Photo: PIE)
Herbert Snell
, vice-president of the German association for secondary raw materials and waste disposal
bvse
, in turn welcomed the fact that politicians are specifying quotas for the use of recyclate – not entirely without self-interest, given that he earns a living as managing director of two recycling companies alongside his honorary position in the bvse. "This boosts demand for our products," he noted, while at the same time criticising that the areas in which recyclates ought to be used should also be specified. Snell said it is much more important to switch from price-driven to demand-driven use of recyclates. Topics such as "Design for Recycling" play a key role here but have so far not received sufficient attention from market players, he added.
Related
:
European brands step up eco packaging game
Michael Heyde
, head of recycling technology at
Alpla
, was also against politically-motivated interventions in the product cycle. He noted it was counterproductive to prescribe a specific percentage for recyclate use in, for example, food packaging. "This sensitive area is predestined for virgin material", Heyde said, appealing to the common sense of the Brussels bureaucrats.
What
Klaus-Peter Schmidt
, head of R&D and sustainability management at
Mauser International Packaging
, had to say at the end sounded like a kind of summary and a plea for more of a joint approach. The "battle for input streams" will continue, Schmidt believes, but "there is no way back". To effectively counter the political trend toward overregulation, it is essential for the plastics industry to finally pull together across the entire value chain – from producers and converters through to recyclers – and move as one in the same direction.
20.09.2022 Plasteurope.com [251181-0]
Published on 20.09.2022
German version of this article...