PLASTICS PACKAGING
Fraunhofer study: Comparison of reusable plastic systems with single-use alternatives / Recycled content required for production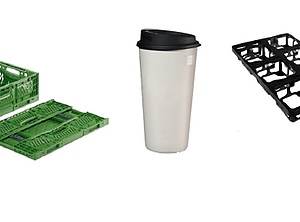 Points-based winner: 14:3 was the outcome in favour of the reusable variants (Fig: Fraunhofer)
Researchers at the
Fraunhofer Institute for Environmental, Safety and Energy Technology
(Umsicht, Oberhausen, Germany;
www.umsicht.fraunhofer.de
) and the
Fraunhofer Institute for Material Flow and Logistics
(IML) were commissioned by Germany's reuse-initiative foundation
Stiftung Initiative Mehrweg
(SIM, Berlin;
www.stiftung-mehrweg.de
) to compare plastics reusable systems with their single-use alternatives.
The study analyses fruit and vegetable crates, plant trays, and to-go coffee cups. These were compared with the corresponding single-use solutions in the three areas of circularity, performance, and sustainability, in a total of 17 sub-categories. The result: reusable is superior to single-use in 14 of the 17 categories investigated – including for material efficiency, lower emissions, and better product protection through more robust designs.
Related:
Fraunhofer Institute study: feasibility of recyclate material use in white goods
While reusable systems involve a higher capital outlay for companies to begin with, given that they have to set up logistics and return systems as well as storage areas and cleaning technology, the authors say that reusable systems work out to be less expensive and more sparing on resources over the long term. Co-author
Kerstin Dobers
, from the IML Fraunhofer Institute, says, "The higher the number of cycles and the shorter the transport routes, the better reusables perform in comparison to single-use products. Decentralised pool solutions are crucial here." Compared with other packaging materials like paper or wood, plastics have a large number of positive properties – they are lightweight, durable, and chemically inert – and thus remain the material of choice in numerous applications for reusable systems.
Implementing the waste hierarchy and optimising reusables
The study is addressed in equal measure to politicians, associations, manufacturers of plastics packaging, and suppliers of reusable pool solutions. "The result is in marked contrast to the actual situation on today's packaging market," says Jürgen Bertling of the Umsicht Fraunhofer Institute and project manager for the study. Incentive systems must be created for companies in order to encourage the application of reusable solutions for plastics. He also calls for the waste hierarchy to be reviewed by a panel of experts and to then be strictly implemented in practice. It would also make sense to look less at recycling quotas and instead specify demanding recyclate proportions in production.

In Dobers' view, existing reusable solutions also need to be optimised. "When it comes to reusable solutions, numerous innovations would doubtless still be possible, especially in online retailing or in the takeaway sector. Good packaging solutions are noted for their modular design and capability for volume reduction – employing nestable or foldable products."
09.05.2022 Plasteurope.com [250171-0]
Published on 09.05.2022
German version of this article...