PLASTICS MACHINERY ITALY
Foreign trade and domestic uncertainties hamper machinery manufacturers in 2019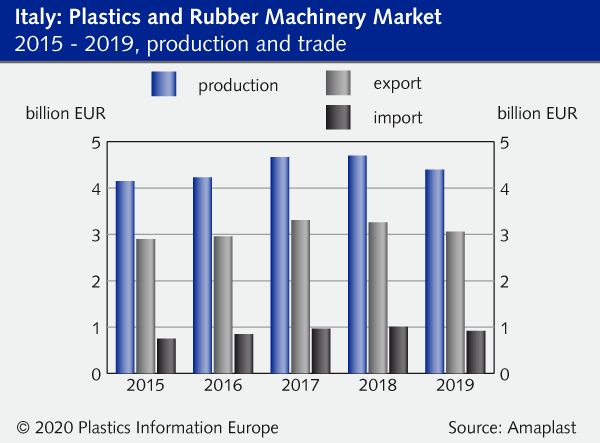 Italian import and export volumes of plastics and rubber processing machinery and moulds slumped for the year 2019. Overall imports slipped 8.9% from prior year levels and exports fell 6.1% from 2018, according to a report by Italian industry association
Amaplast
(Milan;
www.amaplast.org
).
The downturn, following eight years of growth, can be attributed to lower domestic and international demand, a contraction in investments that weakened domestic industrial production and consumption as well as economic uncertainties such as Brexit and continued trade tensions between the US and China. As a consequence, the domestic market in Italy shrunk by roughly 8%, and the balance of trade, while still decidedly positive, dropped 5%. The onset of the global coronavirus pandemic earlier this year has slowed certain supply chains (see Plasteurope.com of
16.03.2020
).
Imports of core machinery from Germany, Europe's largest economy, fell 23.1% in 2019 compared to the previous year. Orders from Italy for German-made injection moulding presses, blow moulding machines and moulds slid 27.7%, 83.3% and 23.2%, respectively. Italian processors continued to favour investing in processing technology from Asia in 2019 while letting its purchases from European suppliers dip – imports of injection moulding machinery from China grew 14.1% and moulds from Japan were up 27.2%.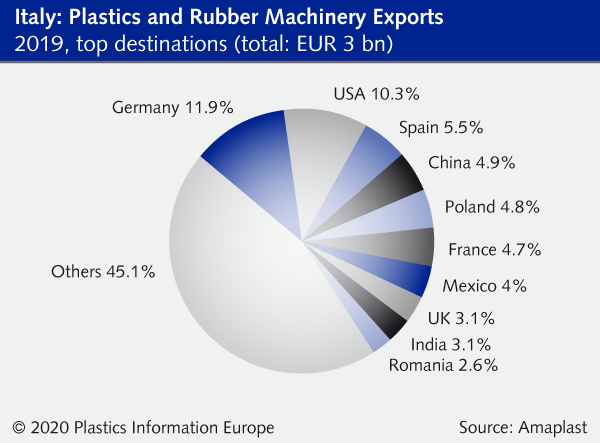 Italian processors investing in foreign-produced machinery will continue to turn primarily and broadly to the major European suppliers of primary processing technology. Still, exports of most core plastics machinery technology and moulds were hit hard by decreased demand abroad. Yet Amaplast reported several upticks that noticeably bucked the otherwise downward trend.
Extruder exports posted a moderate decline of 4% at the end of 2019, with soft US demand offset by stable European purchases and a "boom" in demand from India, said Amaplast. Exports of blow moulding units fell 9% on decreased sales to Russia, Algeria, the US, Mexico and Iran. Exports of thermoforming units tumbled 15%, mainly due to demand from China falling by half its value.
Of particular significance is the downturn in mould exports, which fell 18.2% in 2019, as it represents one fourth of all exports in the sector, said Amaplast. Decreased deliveries of Italian moulds to the US (-26.9%), the Czech Republic (-24.1%), Germany (-24.1%), France (-23%) and Poland (-20.3%) were reported. Injection moulds comprise a large portion of Italy's mould making efforts, so the losses here erode the gains seen from injection machinery exports, which provided a bright spot. Orders for Italian injection moulding machinery from the US, Spain, the UK, Indonesia, Iran and the UAE collectively drove exports up 28% in 2019 compared to the previous year.
Overall, "the destinations of Italian exports have seen general reductions in Europe in favour of Asia," according to the report, which is based on trade data published by the
Italian National Institute of Statistics
(Istat, Rome;
www.istat.it
). Amaplast president
Dario Previero
said it is no simple matter to understand whether the industry is in a cyclical recession or experiencing a structural weakening (see Plasteurope.com of
09.03.2020
).
03.07.2020 Plasteurope.com [245436-0]
Published on 03.07.2020