PLASTICS MACHINERY GERMANY
Eight consecutive years of growth / US remains top importer / Chinese market is most important / Italy moves up a notch
Plastics and rubber machinery manufacturers in Germany witnessed another record year in 2017, with sales up 5%. The German plastics and rubber machinery association
VDMA Kunststoff- und Gummimaschinen
(KuG, Frankfurt;
http://kug.vdma.org
) chair,
Ulrich Reifenhäuser
, said 2017 was "in line with positive developments since 2010." German machinery manufacturers clearly surpassed KuG's forecast of 3% in June 2017 (see Plasteurope.com of
03.07.2017
).
Little has changed within the ranks of the top countries importing German plastics and rubber machinery. The US kept its leading position in 2017, with a value of EUR 847m (a year-on-year increase of 10%). China remained in second place, where German exports were valued at EUR 717m (up 14.3%). In China, machinery worth EUR 500m is manufactured by German companies for the local market, making the Chinese market by far the most important for German plastics machinery manufacturers.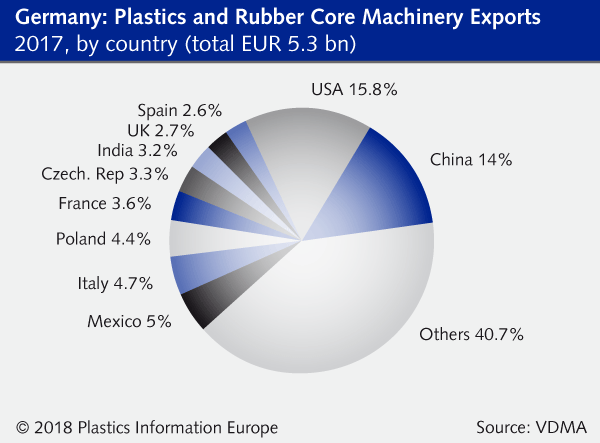 German exports to Italy sharply rose 32.1% against 2016, valued at EUR 250m. The country has moved to fourth place, just behind Mexico, which imported EUR 269m of German plastics and rubber machinery. KuG says the Italian government's "Industria 4.0" plan should become noticeable (see Plasteurope.com of
29.03.2018
), and the country's investments in industrial goods could be stimulated by Italian plastics processors revamping machinery parks with high-tech products that are "Made in Germany".
Exports to Russia have grown again. Here, companies bought German plastics machinery valued at EUR 114m (up 34.1%), which is a turnaround, ending years of declining exports to Russia (see Plasteurope.com of
08.12.2017
). Growth is limited mainly to the domestic packaging sector, and does not mirror a recovery of the Russian plastics industry.
German plastics and rubber machinery exports to Brazil rose 35.4% to EUR 75m in 2017. After a long downturn, KuG says Brazil will require more time to fully recover from its recession.
16.05.2018 Plasteurope.com [239698-0]
Published on 16.05.2018
German version of this article...