PLASTICS INDUSTRY EUROPE
PIE flash survey on Russian gas: Half of the firms fear supply stoppage / France, Germany expect greater impact / Higher polymer prices in emergency case / Stockpiling, search for new suppliers
The European industry is heavily dependent on Russian energy supplies – and its consequence have tragically been demonstrated every day since the start of Russia's war in Ukraine. Due to Finland not making payments for gas in roubles – and presumably because of Finland's NATO membership aspirations –,
Gazprom
recently turned off the country's gas tap as well; Poland and Bulgaria had their taps turned off since the end of April. Since 24 February, governments of almost all European countries have been working overtime to find new suppliers for oil and gas, and to accelerate the development of alternative energy sources. Good for the environment, bad for
Vladimir Putin
? Unfortunately, the formula is not that simple.
An EU-wide oil embargo against Russia has so far failed due to Hungary's blockage. Leading business associations across Europe are fiercely opposing a possible gas embargo.
And the European plastics industry? How much pressure are the companies along the plastics value chain under, how well-prepared are they for a possible stoppage of gas deliveries – be it by Moscow's orders or by Brussels, within the framework of an extended sanctions package?
The recent Plasteurope.com flash survey took place in May 2022, as part of the Plasteurope.com Readers' Survey. A total of around 160 companies from the industry took part in the survey, spread across Europe. CEE accounts for the largest share with a good 14%, closely followed by Spain and Portugal (13%), Italy and Scandinavia with just under 12% each and UK and Ireland with just under 11%. German-speaking, Benelux, South-Eastern Europe and France were the next largest. Most respondents are plastics processors (38%), followed by plastics/chemical production (17%). The rest is divided between dealers and distributors, users and recyclers.
Plasteurope.com
's flash survey shows that just over half of the companies surveyed fear the halt of natural gas supplies from Russia. A good quarter are not afraid of the same, and about 12% of the companies go a step further and say the possibility of an embargo does not concern them.
German-speaking Europe and France, however, are – unsurprisingly – much more concerned, as the gas cut-off would hit a vast majority of companies hard. In contrast, plastics companies in South-Eastern Europe seem to be more relaxed: 60% of the respondents from these countries say they do not fear the stoppage of supply or that it would not affect their business.
While brand owners and raw-material producers are the most concerned of the lot about the ongoing uncertainty surrounding Russian gas, distributors and recyclers are more flexible in dealing with the energy crisis or are not very strongly affected. Plastics processors present a mixed picture. According to the Plasteurope.com survey, 63% of all producers across Europe fear a supply cut-off of Russian gas. No wonder, since they depend on the gas not only as an energy source, but also partly as a source of raw material.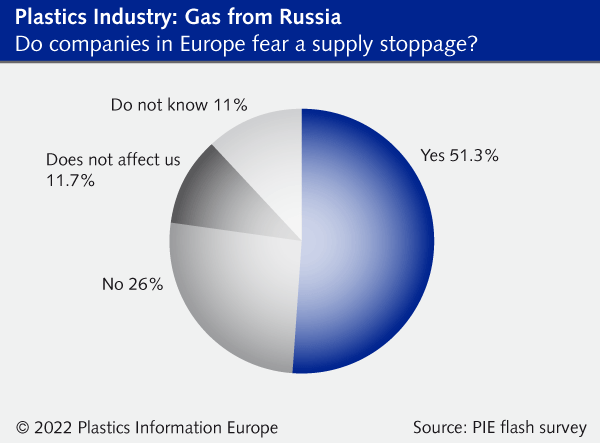 Is the plastics industry ready?
So, is the plastics industry well prepared for an emergency situation? We asked plastics companies in Europe precisely that, and gave them the choice of multiple answers.

About one third of the managers do not believe preparations for such a scenario are even possible – on the other hand, 15% do not think preparations are necessary.

In Italy, the UK and Ireland, companies are much more sceptical: around half of the survey participants say no preparations at all can be made for a possible gas stoppage. That is somewhat perplexing for the UK, as the country is not very dependent on Moscow – majority of their gas supply comes from Norway.


The situation continues to be diverse
A good 20% of the respondents each report that customers have been informed about possible supply interruptions, that stocks have been replenished as a precautionary measure or that supply contracts have been signed with other suppliers as a precautionary measure.

A recycler from Norway is pleased about the fact that the country "is an oil and gas producer". Another recycler says, "Use waste plastics instead". A packaging manufacturer reports supply security "with non-Russian gas". Some others have confidence in politics: "We rely on our governments' efforts to secure other energy sources.", so a quote from a producer.

A processor from the construction sector, on the other hand, believes his business is in grave danger due to existing EU sanctions: "Unfortunately, the sanctions that have already been imposed have also drastically reduced our markets. Further sanctions can only further destroy this!"
Most companies fear higher polymer prices
If there is a supply stoppage of/embargo on Russian gas, how would the European industry be affected? What would be the most serious consequences? Survey participants have taken clear positions.

About 65%, and thus the clear majority, fear higher polymer prices and – obviously – higher energy prices. Given the already existing challenges of high inflation in Europe, this would be yet another escalation point in crisis management for plastics processors.

In German-speaking Europe, the Nordic region, and Spain & Portugal, the expectations are even worse: more than 80% of the respondents expect higher resin prices. In these countries, therefore, an above-average number of companies intend to raise their product prices in the event of a gas freeze.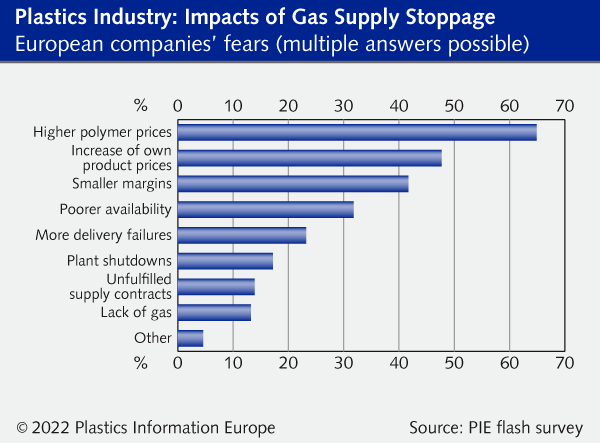 "The abnormal situation following a gas shutdown is perceived by our customers as unavoidable. At the moment, they don't know how to reduce the resulting chaos at all, there are no plans!" – this quote from a processor summarises the scenario.

Overall, just under a quarter expect more forces majeures in the worst-case energy scenario, but in France, half of the managers expect delivery failures to be the greatest impact.

A positive sign could be that 86% of all respondents in Europe expect to be able to continue to fulfil their supply contracts even in the event of a gas cut-off, and 87% say they could keep their production going even without Russian gas – of course at the expense of margins and with considerably worse prospects in chemicals and in processing.
25.05.2022 Plasteurope.com 1100 [250295-0]
Published on 25.05.2022
German version of this article...