PLASTICS ECONOMY
PIE Readers' Survey: Pessimism at the forefront in Europe / Half of respondents predict worse business for rest of 2022 / Staffing a non-issue / Plastics producers concerned about a dark future
To gauge how business is developing in the European plastics industry, Plasteurope.com conducted its 8th Readers' Survey in July. The questionnaire was available to Plasteurope.com subscribers and other industry players, with more than 220 participants from across Europe taking part in the poll.

Once again, we present the results of the survey, an exclusive executive summary with key statements from Europe's plastics industry on the latest business performances, trends, and challenges in turbulent times. The details of the results are part of our online evaluation, where answers can be assessed individually according to individual requirements.
European companies more pessimistic than ever
What was the situation in Europe in the first half of 2022, and how is the rest of the year looking? Just under half of all companies surveyed in Europe reported improved business in the first half versus the last half of 2021. Just under a quarter reported a worse outcome.

The continuing consequences of the pandemic, with huge bottlenecks in supply chains, and then the war in Ukraine have impacted both the people and the economy. Energy prices are skyrocketing, and planning security is low. Since the first Plasteurope.com business survey in 2019, there has never been such a negative assessment of business activities across Europe, and the outlook has never been so pessimistic.

This is particularly noticeable among French managers: 40% reported a downturn compared to H2 2021, although 47% also reported improvement at their companies. In the Nordic region and in Spain & Portugal, assessments were more positive: in each case, 57% reported better business in H1 2022. But in Central & Eastern Europe, only one-third said business was better.
No light at the end of the tunnel?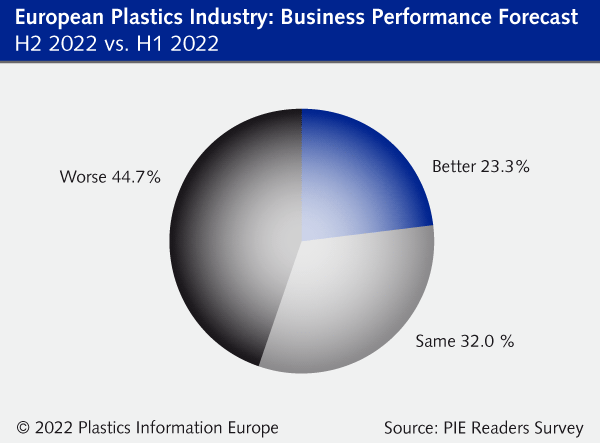 Almost half of all survey participants said they expect business to worsen in H2 2022. Just under a quarter expressed hopes of doing better despite the high energy costs and the uncertainty surrounding oil and gas supplies.

More than 60% of the respondents, respectively from Benelux, German-speaking Europe, and Italy, are particularly pessimistic, and expect weaker business performance in H2 2022, while around 40% of the companies from France and Southeast Europe said they were optimistic about business activity in the second half. The Nordic region seemed sanguine, with most survey participants stating that everything will remain as it is thanks to the region's greater energy independence.

What's also noteworthy is that more plastics producers than distributors and processors raised concerns about a darker future. Recyclers, on the other hand, have their own perspective: despite all the turbulence on the markets, they continue to see their business future as rosy or stable.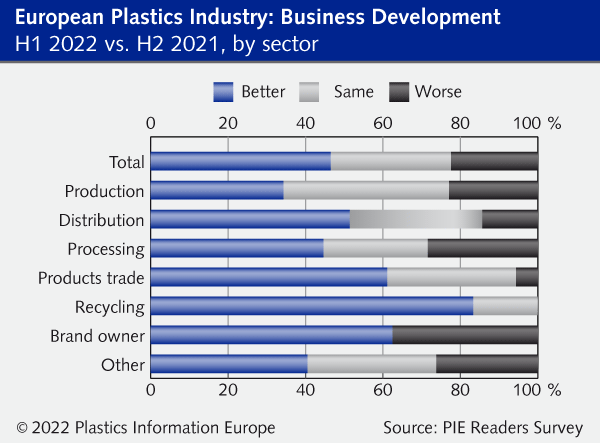 Investment plans slightly downsized
Despite the war in Ukraine, the industry's mood does not seem to be at its lowest ebb. Companies' willingness to invest is somewhat more restrained than in the past few surveys, but money is still being spent.

A majority of companies said their short or medium-term capital investment plan remained unchanged in H1 2022 versus the previous six months. Less than a quarter of those surveyed said capital investment had been scaled up, while just under 15% said they had been downsized. These dynamics indicate a slight decline in the willingness to invest. The figures from H1 2021 looked more upbeat, with 30% of surveyed companies seeing their capital investment plans expanding, and only 8% seeing them decreasing.

In some countries, managers were a little more willing to spend: nearly 40% of the firms in Southeast Europe and 36% in Italy reported increased spending. In contrast, one-third of French plastics companies plan to cut back investments over the next few months.

Still, H1 2022 figures are a far cry from the capital investment performance in the first six months of 2020, when European industry first felt the sting of Covid-19. A stunning 48% of respondents back then said their plans for investment had been cut, while 47% said they had stayed at the same level, and only 5% believed they had increased.
Staffing shows moderate growth
The world seems out of joint, and yet the situation on the European plastics job market is surprisingly a bit loose. Staff development dynamics in H1 were largely positive, as nearly half of survey participants said that staff levels in their companies were unchanged. While almost 36% of companies swung towards hiring, only 15% reported job cuts.

These figures are largely consistent with the staffing trend reported in H2 2021, when 41% of companies added employees and 11.5% reported reductions, which seemed rather less due to the pandemic.

Staffing trends were predominately positive in France, where 53% of the survey participants were hiring, and only 7% cut jobs. The employee strength was also up in 43% of the companies in Benelux, 40% in Italy, and 40% in UK & Ireland.

Although many anticipate worse business, additional staff is being sought. The outlook shows that more companies expect their staff numbers to grow rather than to shrink. Most firms projected the job level to remain unchanged.
Soaring costs stretch plastics companies' budgets
Transport shortages and exploding prices for logistics, materials, and energy topped the list of the main concerns for the European plastics industry in the first six months of 2022.




Most companies listed the cost of raw materials (84%) and energy costs (77%) among problem areas. As many as 67% warned of issues of raw material availability, and 40% said they felt uneasy about staff recruitment. Nearly every third respondent expressed concern about the levels of selling prices, costs for labour, and sales volumes. Supply chain disruptions caused by the war in Ukraine were cited among the top concerns in H1 2022 by 27.4% of survey participants.

Hardly surprising, given the energy crisis in Europe and the fear of an end of gas shipments from Russia, that the European plastics industry sees energy costs as the most serious challenge over the next few months.
Uncertainty takes a toll
In the wake of the unprecedented geopolitical tensions and continuing economic uncertainty, businesses acknowledged an urge to delay plans. Only 6% of the respondents said they are planning for the long term, seeing no reason to push back business plans. At the other extreme, 8% reported that no plans were being made due the current conditions and with geopolitical turbulence making forecasts uncertain, while 13% said spontaneous adjustments to operations are necessary.

A majority of plastics processors in Europe (60%) reported that they cannot plan at all due to uncertainty on the global markets, make new decisions on a daily basis, or currently follow a schedule for one to six months.

Remarkably, of all European regions, German-speaking countries had the highest share of respondents who considered external conditions appropriate enough to maintain a long-term strategy – no company said planning was impossible or that it required daily adjustments.
Resilient in disruptive times
Most companies said ongoing disruptions in global markets are no threat to their operations. As many as 42% of respondents said their business was rather robust in the face of ongoing challenges, while 20% stated they were well-prepared. The current uncertainty strongly bothered almost every third company, as 12% of market players warned their business was not prepared for supply chain disruptions, while 17% admitted that they were not prepared enough and, among other things, required new risk management systems.
Again, companies in German-speaking Europe expressed the strongest confidence in their operations: 48% described their current business as relatively robust, with only 5% calling for new risk management and none admitting to being absolutely unprepared. In Central & Eastern Europe, France, Italy, and Portugal & Spain, 40% or more of managers said their firms are not prepared at all or at least well enough for the current crisis centred on energy, the war, and logistics.
Exclusive for Plasteurope.com survey participants: Access to interactive database of evaluation with new feature!
All participants of the 8th Plasteurope.com Readers' Survey have exclusive access to the executive summary. Plasteurope.com will also provide a link to the online survey database, where respondents can view the poll's details and carry out individual cross-analyses – according to country/region, plastics industry sectors, and company size. And we've added a new feature – a time series covering all previous Plasteurope.com surveys, with which you can now visualise trends. If you wish to access this treasure trove of data, you can take part in our winter 2022 Plasteurope.com Readers' Survey. We look forward to seeing you there!
11.08.2022 Plasteurope.com 1105 [250826-0]
Published on 11.08.2022