PLASTICS ECONOMY
European industry's outlook appears more subdued / Many companies worried about impacts of global trade conflicts, the automotive crisis and regulations / Plasteurope.com Readers Survey
To gain insight into the current state of affairs regarding the European plastics industry's business performance and outlook,
Plasteurope.com
has conducted a readers survey, with more than 200 respondents from across Europe participating. Compared to February this year, when Plasteurope.com conducted its first readers survey (see Plasteurope.com of
11.04.2019
), the mood has generally turned more cautious for the remainder of 2019, with 71% of respondents concerned about the negative effects from global trade conflicts on their company's business performance.
While 22% of those surveyed rated business performance as worse in the first half (H1) of 2019 compared to the second half (H2) of 2018, nearly 30% expect business in H2 2019 to be worse than in the first half of this year.
Smaller share of companies expect business to improve in H2
Around 39% of respondents rated their company's business performance in the first half of 2019 as better than that in H2 2018, while the same percentage saw business stay the same in H1 2019 compared to H2 of last year. By location, a higher share of companies in the Nordic region (54%) noted that business was better in H1 2019 compared to H2 2018. The regions with the largest share of respondents rating business in H1 2019 as worse in a half-year comparison were Spain (35%) and German-speaking Europe (32%). Across sectors, plastics converters appeared to fare the best, with almost half rating business in H1 as better than in the second half of 2018. Brand owners and recyclers came in as second and third most satisfied with business.

Two thirds of respondents said their company's short- or medium-term investment plans stayed the same during the first half of 2019, while 11% saw it decrease. Looking across sectors and regions, this pattern was similar, with the majority of companies seeing investment plans staying at the same level in H1. There was also a similar trend across company size, from SMEs to businesses with over 500 employees.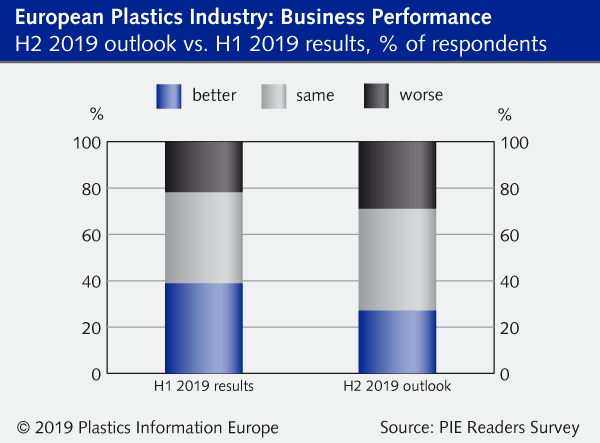 Compared to the first half of 2019, fewer respondents (27%) are expecting better business performance in H2 2019, while a higher share (29%) think business could get worse. Companies dealing in plastic products trade are the most optimistic, with 44% expecting better times for business in the second half of 2019. Among the more pessimistic for H2 are those in distribution/compounding (43%).
When comparing respondents' expectations from this survey to those based in German-speaking Europe (from the latest readership survey conducted by PIE's sister publication
Kunststoff Information
(KI) – see Plasteurope.com of
05.08.2019
), it appears that the rest of Europe has a slightly more positive outlook for the rest of 2019 – 27% compared to 23% in German-speaking Europe.
For plastics processors, a smaller share (20%) compared to the other sectors is expecting business to be worse in H2 2019. Around half foresee business staying the same, with around one third expecting improved business performance in the second half of the year.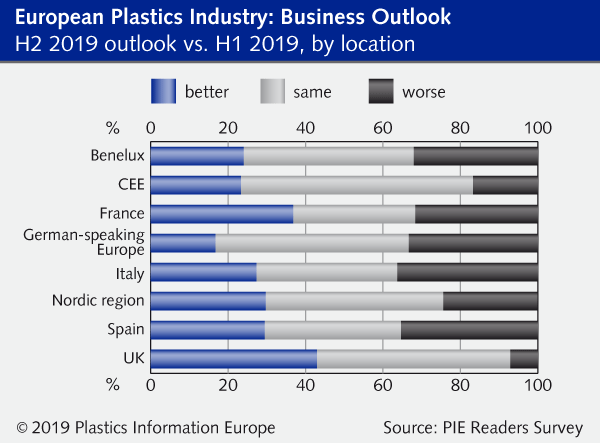 By region, the UK (43%) and France (37%) have the highest shares with an optimistic outlook for H2 compared to H1 2019, but between the 32-36% share with a negative outlook are France, German-speaking Europe, Italy and Spain. A majority (60%) in Central and Eastern Europe (CEE) foresee business as staying the same.
Many companies worried about EU plastics-related regulations
For 43% of survey respondents, EU regulations were not expected to negatively impact business performance. The remainder of those surveyed were especially concerned about the ban on single-use plastics (SUP; 26%), REACH regulations (19%), food-contact legislation (15%), microplastics regulation (12%), other regulations (8%) and the new EU medical device regulation (MDR; 4%).

Other regulations that were of concern for the 8% of respondents included CO2 reduction programmes, fallout from Brexit, the diesel ban and WLTP emissions test, the IMO 2020 regulation (limits the sulphur content of fuel oil in the shipping sector), a tax on plastic packaging and recycling-related guidelines.

The EU regulations that plastics processors were concerned with were similarly distributed. Around 44% were not expecting any effect on business from regulations, with the SUP ban (27%) and REACH (20%) of most concern for those expecting a negative impact.
Global trade conflicts a concern for most
The effects of global trade conflicts on business were a significant issue for the majority, with 71% viewing trade conflicts as negatively impacting business performance. Around 23% saw no effect on business.




Those in distribution and compounding had the largest share seeing negative impacts from trade conflicts (89%), followed by brand owners (83%). Around 70% of plastics processors were seeing negative impacts on business performance. By end-use market, at least three quarters of processors concerned with the automotive, technical parts and packaging sectors were worried about negative impacts.

Most regions saw negative effects on business from trade conflicts, with no respondents in France and German-speaking Europe seeing positive impacts. Around half of UK companies remained neutral about effects of trade conflicts on business performance.
Around half affected by the automotive slump
This year's crisis in the automotive industry was negatively impacting business, either directly or indirectly, for 52% of respondents to PIE's survey. By contrast, around 40% saw no impact on business performance, while the remainder even saw positive effects.

Brand owners were perhaps the least affected, with more than 60% registering no impact from the automotive slump. Almost half of plastics processors (49%) were also seeing no impact, but around 45% were negatively affected.

Looking across regions, companies in German-speaking Europe were clearly feeling the crisis, with around 90% saying business was negatively affected. By contrast, only 22% in the Nordic region witnessed a negative impact from the auto sector's downturn, and around 16% even saw some good effects on business performance.

Participants of the Plasteurope.com Readers Survey have received the exclusive full report containing the results and analysis.
29.11.2019 Plasteurope.com [243652-0]
Published on 29.11.2019