PLASTICS ECONOMY
PIE Readers Survey: European plastics industry appears optimistic for 2019 / Almost half of respondents plan to invest more / Logistics issues a major concern / Majority expecting Brexit to impact business
To gain insight into the European plastics industry's business performance in 2018 and outlook for the current year, Plasteurope.com conducted its first readers survey. The questionnaire was open to Plasteurope.com subscribers from 4-28 February 2019, and 240 respondents from across Europe participated. The mood is generally an optimistic one for most European regions and sectors. Half of those surveyed are planning to increase capital investment in tangible assets and around one third intend to recruit more staff this year. Looking ahead, many businesses in Europe's plastics industry are concerned about the impacts from Brexit and logistics issues.
Over 50% expect better company performance in 2019
Around 63% of respondents rated their company's business performance in 2018 as better than in 2017, while 16% thought business performance was worse. By location, companies in France (73%) and German-speaking Europe (75%), in particular, noted that business was better in 2018. The countries with the largest share of respondents rating business in 2018 as worse were Spain (37%), France (27%) and Italy (25%).


Across sectors, 59% of plastics converters and 58% of brand owners rated business in 2018 as better than the year before. Those involved in plastic products trade seemed most satisfied, with around 73% rating business performance as better in 2018 than in 2017. Among the plastics processors, more than three quarters in technical parts rated business performance in 2018 as better.
Over half of those surveyed expect business in 2019 to be better than in 2018. Companies dealing in plastic products trade are especially optimistic. Converters in the packaging sector are also optimistic for 2019 – two thirds foresee business being better. About 70% in Central and Eastern Europe (CEE) and the Nordic regions expect better business this year. A little more pessimistic are those in German-speaking Europe and Italy. These expectations in German-speaking Europe echo the sentiment from the latest readership survey conducted by PIE's sister publication
KI
– see Plasteurope.com of
13.02.2019
.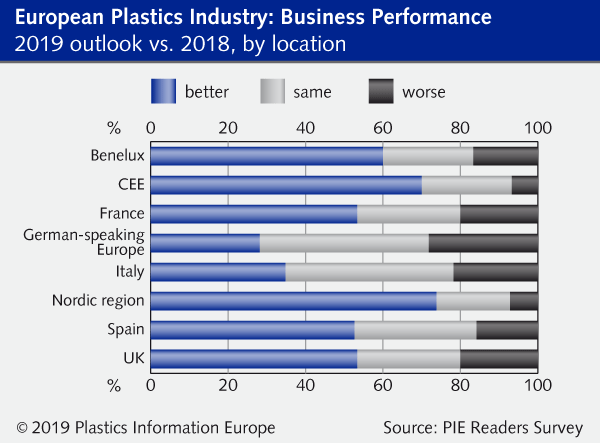 Many companies set to increase capital investment and expansion
Related to a cheery outlook for business performance, 46% of respondents said their company's capital investment plans for tangible assets (property, plant and equipment) are increasing in 2019 compared to 2018, while 13% see it decreasing. It appears that companies in Italy, Spain and the CEE region are boosting capital investment this year, more so than companies in France and German-speaking Europe. Those from the recycling sector did not plan to reduce investment for tangible assets in 2019. Just over one fifth of plastics processors intend to decrease capital investment – a greater share than in most other sectors.

Nearly half of survey participants said that the focus of their capital investment is on expansion. By location, more than 50% of businesses in Italy and Spain as well as the Benelux and CEE regions are focusing investments on expansion.
Majority of recyclers expect to hire more staff in 2019
In 2018, almost half of respondents said that the number of employees at their companies increased in 2018 compared to the year before. The proportions in France and German-speaking Europe that had an increase in staff numbers in 2018 trended higher than in other regions.

The outlook for employee numbers in 2019 is more subdued compared to 2018, with 51% of those surveyed expecting the head count to remain unchanged. Around 37% of companies expect increasing employee numbers in 2019, and 12% foresee decreasing numbers. Two thirds of recyclers said they expect staff size to increase in 2019 compared to 2018.
Main concern for business performance is cost of materials
In 2018, the cost of materials was rated as the top concern for the business performance of those surveyed, and this appears to remain the top concern in 2019. Exceptions by region were companies in CEE that rated labour and salary costs as the number one concern in 2018, while those in France said the main concern was raw material availability. UK companies also see raw material availability as their top concern this year, with Brexit uncertainty likely playing a big role – see Plasteurope.com of
03.04.2019
.


The trend for plastics processors is that the cost of materials remains the top concern for business performance in 2019 for the majority, but a smaller majority than last year. They also gave higher ratings for energy costs, sales volumes as well as labour and salary costs as concerns in 2019 compared to the previous year.
Brexit and logistics issues are worrisome
Only 6% of those surveyed expect Brexit to have a positive impact on business performance, with 57% expecting a negative impact. The negative outlook was most pronounced for those in the UK, followed by France and German-speaking Europe. Just over half of plastics processors were negative about the potential impact of Brexit on business performance – which is a less pessimistic share than those in plastics production, distribution, compounding, trading or plastic products trade.

Across sectors, 67% expect that logistics issues will negatively impact business performance in 2019 and around 5% foresee a positive impact. About three quarters of plastics producers and companies involved in raw materials distribution, compounding or trading as well as plastic products trade forecast negative impacts on business. Almost 80% of respondents in France and over 92% in the UK see logistics as a worrisome issue for business performance.
Mixed views on EU regulations on plastics
Respondents to PIE's survey had mixed views on the impacts of EU plastics regulations on their company's business performance. Around 36% rated EU regulations on plastics as having no impact, 43% could see negative impacts and 21% positive impacts. Companies in the plastic products trade sector were conspicuous as tending to see a more negative impact.

Compared to the other sectors, plastics processors generally seem less negative about the impact of EU plastics regulations on business performance. Only around one third of converters in the packaging and technical parts sectors expressed a negative sentiment about the EU regulations.

Participants of the Plasteurope.com Readers Survey have received the full 83-page report containing the results and analysis.
11.04.2019 Plasteurope.com 1025 [242073-0]
Published on 11.04.2019