PLASTICS AND HEALTH
Recycling plastic leads to increased toxicity in material – Greenpeace report / Recycled plastics vectors for spreading chemicals of concern – Cambridge study / BPF response
Far from being a solution to the world's plastics pollution problems, recycling the material can lead to even greater environmental issues, according to a new report from
Greenpeace
in the US. The report,
Forever Toxic: The science of health threats from plastic recycling
, argues that the toxicity of plastic actually increases with recycling.
"Plastics have no place in a circular economy," said
Graham Forbes
, who leads
Greenpeace USA
's global plastics campaign. "It's clear that the only real solution to ending plastic pollution is to massively reduce plastic production."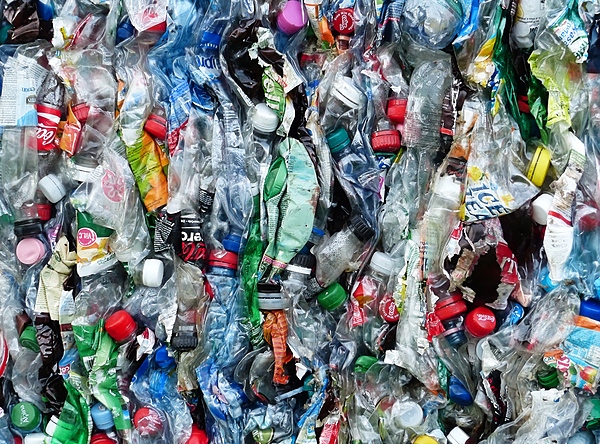 The study detailed 853 chemicals used in rPET (Photo: Pixabay/Hans)
The report says many companies "tout the use of recycled plastic in their packaging as an important part of the solution, while failing to achieve significant reductions of overall plastic use, and in some cases increasing plastic use, or meaningful gains in reuse.
Related:
President Biden's administration introduces recycling proposals
"But the reality is that most plastics collected for recycling are never recycled – and when plastics are recycled, they contain a toxic cocktail of chemicals that makes them unfit for food-grade and other consumer uses."
Environmentalists and
United Nations
officials met in Paris recently – formally known as the second Intergovernmental Negotiating Committee (INC-2) – to debate a new
Global Plastics Treaty
. In the lead up to the meeting, over 100 scientists and civil society groups issued a letter urging the UN to prevent the oil industry from undermining the negotiations. Greenpeace has spelled out a seven-point plan for reducing plastic production, consumption, and recycling. Its aims include an end to virgin plastic production and the elimination of all toxic additives and chemicals used in the plastics life cycle.
BPF statement in response to Forever Toxic report
Responding to the Greenpeace report, the
British Plastics Federation
(BPF, London;
www.bpf.co.uk
) said reuse was "an important part of reaching a more sustainable future, but all products will eventually reach the end of their useable life and there needs to be an alternative to landfill and incineration, wherever possible, which requires recycling." According to the
BPF statement
, modern society couldn't function without plastic and it is also vital to the healthcare sector.
"It is worth repeating that recycling benefits the environment by reducing the use of fossil fuels and keeping material in functional use for as long as possible," it added.
Related:
ECHA supports PFA restrictions
However, Greenpeace said that "the devastating impacts of the escalating overproduction of plastic heighten[ed] the need to accelerate refill- and reuse-based systems, but not with expanded plastic recycling efforts".
Review of recycled material for food packaging
Another study by
Cambridge University Press & Assessment
(
www.cambridge.org
) that assessed hundreds of scientific publications on plastic and recycled plastic, has revealed that recycled and reused food-contact plastics are "vectors for spreading chemicals of concern".
The study,
Hazardous chemicals in recycled and reusable plastic food packaging
, details that these plastics accumulate and release dangerous toxins like styrene, benzene, bisphenol, heavy metals, formaldehyde, and phthalates. "Hazardous chemicals can accumulate in recycled material and then migrate into foodstuffs, leading to chronic human exposure," the authors wrote.
The study detailed 853 chemicals used in rPET. The most commonly found were antimony and acetaldehyde, while potent toxins like 2,4-DTBP, ethylene glycol, lead, terephthalic acid, bisphenol, and cyclic PET oligomers were also frequently detected.
02.06.2023 Plasteurope.com [252857-0]
Published on 02.06.2023