PLASTICS AND HEALTH
US to finally regulate "forever chemicals" / EPA proposes limits for PFAS in drinking water / Europe also on the case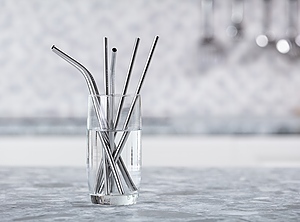 The EPA announced that it is preparing legislation mandating "near-zero" concentrations of PFAS in drinking water supplies (Photo: PantherMedia/Andriy Popov)
More of a coincidence than a joint effort: Europe and the US are simultaneously gearing up to deal with the long-postponed question of what to do about per- and poly-fluorinated alkyl substances (PFAS).
Slow to decompose, the substances used in products ranging from non-stick coatings to semiconductors are popularly known as "forever chemicals" because, when present in drinking water, they can pose a serious threat to public health.
Last month, the
European Chemicals Agency
(ECHA, Helsinki, Finland;
www.echa.europa.eu
), embracing an agenda put forward by environmental authorities in Denmark, Germany, the Netherlands, Norway, and Sweden, announced it would take action toward
banning the substances
. This followed a 2019 agreement by ECHA's member state committee to
identify some of them as substances of very high concern
(SVHC).
Now the US
Environmental Protection Agency
(Washington, DC;
www.epa.gov
) is in the throes of regulating PFAS after years of one-step-forward, one-step-back efforts. A number of states already have rules limiting their discharge into public waters.
On 14 March 2023, the EPA announced that it is preparing legislation mandating "near-zero" concentrations of PFAS in drinking water supplies, "where enforceable".
First time in US history
Stressing that "this is the first time in US history that we've set enforceable limits for PFAS pollution", administrator
Michael Regan
said that exposure to these chemicals has not only been linked only to cancer, but also can cause liver damage, fertility and thyroid problems, as well as asthma.
The agency's proposed National Primary Drinking Water Regulation (NPDWR) covers six PFAS including perfluorooctanoic acid (PFOA), perfluorooctane sulfonic acid (PFOS), perfluorononanoic acid (PFNA), hexafluoropropylene oxide dimer acid (HFPO-DA, branded as GenX), perfluorohexane sulfonic acid (PFHxS), and perfluorobutane sulfonic acid (PFBS).
Related:
US EPA to remove two PFAS from safe list
Along with enforceable limits, the US environmental watchdog wants to set health-based, non-enforceable Maximum Contaminant Level Goals (MCLGs) for the six chemicals in drinking water. For PFOA and PFOS, the guidance is that concentrations should not exceed 4.0 parts per trillion (ng/L), along with a 1.0 ng/L limit for PFHxS.
The dangers of other PFAS, including the GenX fluorosurfactant used by
DuPont
chemicals spin-off
Chemours
(Wilmington, Delaware;
www.chemours.com
) to replace PFOA, would be assessed as a potential "hazard". Environmental NGOs contend that GenX is not substantially safer than PFOA.
Regan said the EPA aims to finalise the new regulations by the end of 2023 and expects that, if fully implemented, they will "prevent thousands of deaths and reduce tens of thousands of serious PFAS-attributable illnesses".
The agency said it will solicit public comment after the proposals have been published in the Federal Register. It has also scheduled two webinars during March and a public hearing for 4 May 2023.
20.03.2023 Plasteurope.com [252441-0]
Published on 20.03.2023