PLASTICS AND HEALTH
ECHA adds four new substances to SVHC list / Two labelled as endocrine disruptors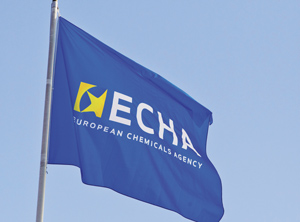 ECHA has added four chemicals as candidates to be listed as SVHC (Photo: ECHA)
On 16 July 2019, the
European Chemicals Authority
(ECHA, Helsinki / Finland;
www.echa.europa.eu
), the body that administrates REACH, added four new chemical compounds – all used by the polymers industry – to the candidate list of substances of very high concern (SVHC). The agency said the listings reflected concerns about their toxicity to reproduction, endocrine disruption and a combination of other critical properties.
The newly listed substances are:
2-methoxyethyl acetate
tris (4-nonylphenyl, branched and linear) phosphite (TNPP) with = 0.1% w/w of 4-nonylphenol, branched and linear (4-NP)
2,3,3,3-tetrafluoro-2-(heptafluoropropoxy)propionic acid, its salts and its acyl halides (covering any of their individual isomers and combinations thereof)
4-tert-butylphenol
According to ECHA, the first substance is not registered under REACH. The decision to include the second and third, it said, was taken with the involvement of the EU's Member State Committee (MSC). Number two, used primarily as an antioxidant to stabilise polymers, was recommended due to its endocrine-disrupting properties. Number three, a processing aid for the production of fluorinated polymers, is said to have an equivalent level of concern, due to its "probable serious effects" on both the environment and human health.
ECHA said the fourth substance was recommended by the MSC to the
European Commission
for listing in 2016, due to concern over its endocrine-disrupting properties. Altogether, the EU's SVHC authorisation list now contains 201 substances. Companies using any of them will be obliged to apply for permission to continue their use after the sunset date.
22.07.2019 Plasteurope.com [242973-0]
Published on 22.07.2019
German version of this article...