PLASTICS AND HEALTH
Switzerland bans bisphenol A and bisphenol S in thermal paper / EU to follow in 2020
On 1 June 2019, Switzerland became the first European country to ban both bisphenol A (BPA) and bisphenol S (BPS) in thermal paper – in a concentration of 0.02% or higher by weight – implementing a decision by the Federal Council, the country's governing body, in April 2019. This puts the unaffiliated alpine country ahead of the EU, where a ban on BPA will take effect in January 2020 as a final step in the action initiated by France and followed up by Denmark. Environmental and health groups called the Swiss action encouraging, considering the lack of EU restrictions on BPS.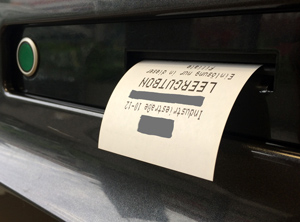 Among other things, BPA and BPS are used in thermal paper for cashier receipts (Photo: PIE)
Up to now, the EU has not taken any action on BPS, which scientists suspect has reprotoxic and endocrine disrupting properties similar to those of BPA. In contrast to BPA, the related chemical compound is not yet on the EU's substance of very high concern (SVHC) candidate list. BPS is, however, being evaluated by Belgium as part of the EU's "Community Rolling Action Plan" (CoRAP) overseen by the
European Chemicals Agency
(ECHA, Helskini / Finland;
www.echa.europa.eu
). ECHA is expected to publish a report shortly, covering the use of thermal paper developers from 2014 to 2018.
Alternatives to BPA and BPS have not yet been evaluated
At present, the discussion about the use of BPA and BPS in thermal paper, which is used to print receipts such as for credit cards, focuses on substitutes for the two chemicals. Consumer health groups worry that manufacturers of cash register receipts, for example, may switch to the cheapest alternative, which may not have been evaluated for their reprotoxic properties. Bisphenol-free alternatives such as "Pergafast 201" from
BASF
and D-8 now being used by a leading Danish retailer are planned to be evaluated by Belgium.
In 2018, an ECHA study found that BPA was the colour developer in 50% of thermal paper used in the EU, compared with 16% for BPS, and said the share of alternative developers seemed to be increasing. That a 2015 Swiss study found 80% of thermal paper to contain BPA and only about 3% BPS has led NGOs to fear that BPS is being substituted ahead of the EU ban. Switzerland is now planning a new study to assess how the substance's use has developed since the last investigation.
BPA is permitted for use in food-contact plastic materials in the EU, but some member states have banned or restricted its use in food packaging applications – see Plasteurope.com of
16.01.2018
. In January 2011, the
European Commission
adopted a directive prohibiting the use of BPA for the manufacture of polycarbonate infant feeding bottles – see Plasteurope.com of
29.11.2010
.
24.06.2019 Plasteurope.com [242747-0]
Published on 24.06.2019
German version of this article...