PLASTICS AND ENVIRONMENT
UN plastics treaty: Sides stake out positions ahead of talks / Next INC-2 round in Paris / Legal issues could hound industry / Big investors call on companies to reduce use of plastics
With the second session of the UN's Intergovernmental Negotiating Committee (INC-2) scheduled to commence on 29 May 2023 in the French capital, interested parties have been sounding off about what they expect from officials tasked with creating a legally binding global treaty for dealing with plastics waste.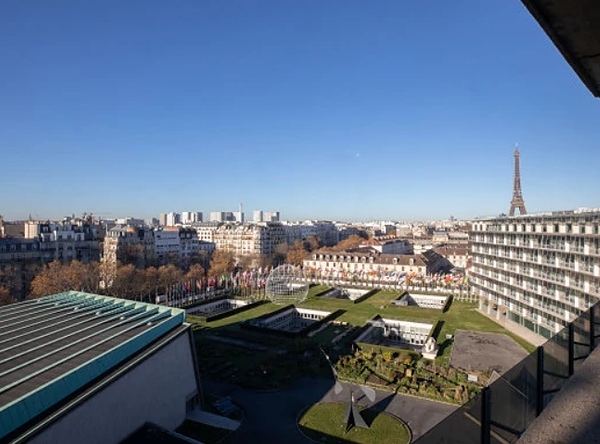 The second session of the Intergovernmental Negotiating Committee on plastics pollution kicks of on 29 May at the UNESCO headquarters in Paris (Photo: UNESCO/Christelle AliX)
Maybe the starkest comments prior to the ING meetings have come from the G7, the influential cluster of the world's seven largest high-income economies, namely the US, Japan, Germany, France, the UK, Italy, and Canada. Following April's meeting of their climate, energy, and environment ministers in Sapporo, Japan, the group issued a joint statement saying, "We are committed to end plastic pollution, with the ambition to reduce additional plastic pollution to zero by 2040."
It also noted that the world is "facing the unprecedented triple global crisis of climate change, biodiversity loss and pollution that are mutually reinforcing and intrinsically linked."
But here's where it gets dicey: the countries offered middling support for fully legally binding solutions, a watered-down position that could have come at the behest of the US, which like countries including Saudi Arabia
is working toward more national autonomy
when it comes to pollution regulations.
The G7 statement said, "We are also committed to playing an active and constructive role to make substantial progress in the negotiations and bring us closer to specifying the key provisions of an ambitious international legally binding instrument on plastic pollution, including both binding and voluntary approaches."
Money talks
Parts of the financial sector have also weighed in ahead of the next negotiations, with asset managers controlling USD 10 tn (EUR 9.3 tn) in investments
calling on consumer goods producers and supermarkets
to reduce their use of plastic packaging.
The group of 185 investors includes
Amundi
,
Axa
,
Bailard
,
Nordea
, and
Pictet
, and was organised by the
Dutch Association of Investors for Sustainable Development
(VBDO, Utrecht;
www.vbdo.nl/en
).
"The whole plastics lifecycle poses a serious and growing threat to the environment, climate, biodiversity, human rights and public health," the group said. "We, investors and their representatives, believe that companies must set their sights higher and act more swiftly to address the plastics crisis through reducing their dependence on single-use plastic packaging, working to bring production and consumption of plastics within the limits of the planetary boundaries and alignment with the Paris Agreement and the Kunming-Montreal Global Biodiversity Framework. This statement is directed at companies in the fast-moving consumer goods and grocery retail sectors."
The investment firms said they expect companies to support international efforts for "an ambitious plastics treaty" by joining the
Business Coalition for a Plastics Treaty
(
www.businessforplasticstreaty.org
), which
was launched last year
by the
Ellen MacArthur Foundation
(EMF, Cowes, UK;
www.ellenmacarthurfoundation.org
) and the
World Wildlife Fund
(WWF, Washington, DC;
www.worldwildlife.org
).
Greenpeace targets "Big Oil"
The global environmental organisation Greenpeace continued to attack the industry with hammer and tongs. Calling the Global Plastics Treaty a "once-in-a-lifetime opportunity", Graham Forbes, who heads the global Plastics campaign at Greenpeace USA, wrote: "Big Oil, in league with big brands like Unilever, Nestlé, and Coca-Cola, continues to promote false solutions and a throwaway single-use model where 'convenience' and corporate profits outweigh the cost to our communities."

He warned of an alliance trying to undermine progress on the regulations. "We expect that the petrochemical industry, corporations and some governments will try to weaken the ambition of the Global Plastics Treaty."
Unleash the lawyers
The industry could find itself increasingly caught between a rock and a hard place. On the one side lies the propagation of environmental regulations, and on the other comes the threat of litigation, according to German insurance and investment giant Allianz. "Plastics litigation is on the rise. The petrochemical industry is the main target but other sectors could be impacted. Exposure is likely to depend on the type of plastic and where it is used, with food-contact materials, clothing, cosmetics, and children's toys the most exposed areas."

Arthur Lu, the head of environmental impairment liability at Allianz Global Corporate & Specialty (AGCS), said, "Depending on where your company sits on the spectrum of the plastics industry, it could be at risk of claims from human health exposures to chemical additives, environmental damage or human health exposures to 'MNP'. These are microplastics, less than 5 mm or one fifth of an inch in length, and nanoplastics, which measure around 1 nm to 1 mm (4e-8 to 0.04 inches)."

He also warned that, "Another potential area of legal action lies with directors and officers who 'greenwash' their sustainability claims."

Last year, US coffee maker Keurig paid USD 10 mn as part of a settlement to resolve claims it misled consumers about some of its products being recyclable.

Further north, Keurig Canada agreed to pay CAD 3 mn and another CAD 800,000 to a domestic charity focused on the environment "to resolve concerns over false or misleading environmental claims made to consumers about the recyclability of its single-use Keurig K-Cup pods", the country's competition bureau said.
15.05.2023 Plasteurope.com [252716-0]
Published on 15.05.2023