PLASTICS AND ENVIRONMENT
Spaceborne observation of waste sites / System said to identify areas for clean-up, improve enforcement of anti-dumping laws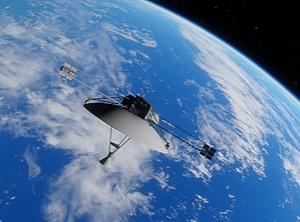 Watching from above: the system monitors more than 2,800 waste sites (Photo: PantherMedia/GostonMoris)
Australian non-profit organisation
Minderoo Foundation
(Perth;
www.minderoo.org
) has launched Global Plastic Watch (GPW), a digital platform it says can map the world's plastics pollution in near real-time using satellite imagery and artificial intelligence.
Minderoo said the system has detected and confirmed more than 2,800 sites in 25 countries with coverage of Southeast Asia, Australia, and the top 20 countries for annual plastics leakage into the oceans. Nearly a third (31%) of sites found were within 250 metres of a waterway, it noted.
Fabien Laurier
, Minderoo's head of technology and innovation, said mapping and monitoring the growth of plastics pollution on land via the GPW platform "would help manage plastics waste by identifying waste sites to enable site clean-ups and better enforcement of laws against dumping." He added that the system provides risk indicators for existing plastics waste sites such as proximity to water or communities while highlighting priority areas for investment in waste and recycling infrastructure and demonstrating visible progress towards waste management targets.
20.05.2022 Plasteurope.com [250277-0]
Published on 20.05.2022