PLASTICS AND ENVIRONMENT
EuPC: Throwaway paper products embedded with plastics must not be exempt from SUP directive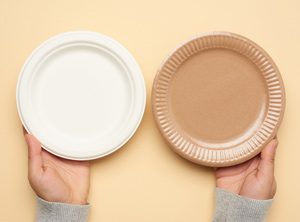 EuPC said consumers generally harbour the misconception that single-use paper products with polymeric substance are more environment friendly (Photo: PantherMedia/nndanko)
Industry group
European Plastics Converters
(EuPC, Brussels / Belgium;
www.plasticsconverters.eu
) has said throwaway paper/paperboard products lined with plastics to resist water or fat should fall within the scope of the EU single-use plastics (SUP) directive.
The group noted that the paper industry has demanded the exclusion of polymer-coated paper products from the directive, with the justification that the plastic content is very minimal. The EU has banned many SUP products, effective July 2021 (see Plasteurope.com of
28.03.2019
and of
10.12.2020
). EuPC said that the directive and its implementing regulations have not set any upper limit to the quantity of plastics embedded in a product, and added that during the drafting stage, the
European Commission
used qualitative rather than quantitative parameters to determine which items are affected.
According to EuPC, an assessment anchored on qualitative parameters addresses the usefulness of the polymeric component in the product's overall function and the issue of consumer behaviour. "It is evident that without such a (polymer) component, the paper/paperboard product would not be able to carry out the main functions for which it was originally conceived."
The association said consumers generally harbour the misconception that single-use paper/paperboard products with polymeric substance are more environment friendly than pure plastic products. They are therefore more prone to dispose of such items improperly because they are unaware of the consequences of discarding a piece perceived as 100% paper.
30.03.2021 Plasteurope.com [247351-0]
Published on 30.03.2021