PLASTICS AND ENVIRONMENT
"Plastics Data Challenge" invites entries to address leakage of waste into oceans / Aim to develop data solutions in South and Southeast Asia
The Incubation Network
(
www.incubationnetwork.com
) has set up a global innovation challenge to address the lack of data on the leakage of plastic waste into the environment.
The network, a programme set up by NGO
The Circulate Initiative
(TCI,
www.thecirculateinitiative.org
) and innovation agency
SecondMuse
(
www.secondmuse.com
), is inviting applications from around the world for its "Plastics Data Challenge". The closing date for entries is 13 March 2020. The invitation extends to academic institutions, start-ups, entrepreneurs, companies and data scientists.
For more information on the program, please view the
YouTube video
on Plastics Data Challenge. The aim of the challenge is to develop advanced data solutions, which will be applied across plastics waste management and recycling value chains in South and Southeast Asia.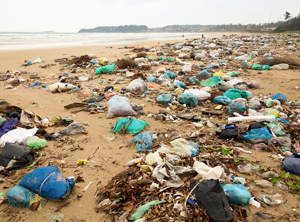 The "Plastics Data Challenge" is a global programme that will source, support and scale innovative solutions that address the leakage of plastics waste into the environment (Photo: Panthermedia/dnaumoid)
Up to 10 semi-finalists will be selected and invited to take part in a one-week innovation summit in Singapore, which will be followed by a virtual pilot-readiness programme that prepares and refines innovations for high-impact markets in Asia. From this group, up to three finalists will be selected and awarded a mix of cash prizes and pro bono services as well as support from The Incubation Network to design and implement a pilot of their innovation in a community within the region.
"We are at an exciting time where there is a global consensus that improved plastics waste management and recycling is key to turning off the tap of ocean plastics," said
Susan Ruffo
, executive director of TCI. "However, while communities of policy-makers, investors, multinational corporations and innovative entrepreneurs are lining up to take action, the lack of reliable data on plastics waste production and leakage continues to be a major roadblock for transformative solutions to the plastics crisis."
The Incubation Network noted that about 8m t/y of plastics waste enters the world's oceans with an estimated 60% of this leakage a consequence of mismanaged waste from Asia. Data on the production and leakage of plastics waste in South and Southeast Asia is often missing, inconsistent or unreliable, the network said, because of the sector's complex and fragmented value chains, which are heavily reliant on an informal economy. These factors result in limited visibility within the sector as well as the inability to effectively track, monitor, forecast or optimise material flows and reduce the leakage of waste into the oceans.
TCI was founded in 2019 with the support of investment management firm
Circulate Capital
(Brooklyn, New York / USA;
www.circulatecapital.com
) to address the ocean plastics crisis – see Plasteurope.com of
30.04.2019
. One of The Incubation Network's partners is the
Alliance to End Plastic Waste
(AEPW;
www.endplasticwaste.org
) – see Plasteurope.com of
06.11.2019
.
30.01.2020 Plasteurope.com [244365-0]
Published on 30.01.2020